Here's What You Can Get in Two Hours for Last Minute Gifts
Don't worry, we got you covered.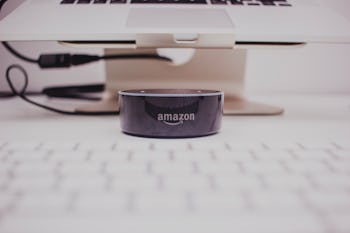 Unsplash / Piotr Cichosz
Merry Christmas, you terrible planners.
If you're still scrambling for last-minute gifts, Amazon's two-hour delivery service, Amazon Now, could have you covered. Available to Prime members in select zip codes, the service itself is free, although Prime membership costs $99 per year.
Here's our picks for some great last-minute gift ideas, from the inexpensive to the ones you'll be tempted to splurge on.
This portable Bluetooth speaker comes in two colors, blue and black, and has a range of 33 feet. The rechargeable battery lasts up to eight hours on one charge. Oh, and as an added plus, it also has a built-in microphone for speaker-free calling.
Amazon Basics Bluetooth Speakers, $19.99
For the giftee that hasn't gotten onto the Alexa bandwagon yet, or maybe just needs to upgrade, the Echo Dot is a great, affordable option. The sleek and modernistic device allows your happy gift recipient to access useful information on the internet, without even needing to put their fingers to use. Just say, "Alexa," and the device will automatically activate, and then give instructions like "Call me an Uber!" or, "Tell me the weather!" Whoever gets this gift will wonder how they lived without it before. Hello, future. ##
Echo Dot, $29
Have a friend or family member that's constantly losing things? This light-weight sensor attaches to anything — wallet, keys or anything else — and uses Bluetooth to track things up to 100 feet away. The TrackR app will ping the device, which will light up with flashing LED lights to make it easy to find. It comes in a pack of five, so your gift-receiver can attach it to anything. The app also lets users know when batteries are running low, and replaces the batteries for free (in the U.S.).
TrackR Pixel Bluetooth Tracking Device - 5 Pack, $49.99
The perfect gift for anyone experiencing '90s nostalgia, or just any video-game lover, this retro set has the look and feel of the original console in a more compact form. It comes pre-loaded with '90s favorites like Super Mario Kart and Street Fighter II Turbo: Hyper Fighting, for a total of 21 games, and both the original Nintendo and Super Nintendo consoles are compatible.
Super NES Classic, $79.99
Because who isn't tired of all of the photos living purely in the cloud? The Polaroid Zip Mobile Printer solves that problem. Compatible with both Android and iOS phones, the printer uses Zink zero premium paper, which means that all photos print without ink — and that your gift recipient won't have to worry about replacing toners or cartridges or any of those other pesky remnants of the past.
Polaroid Zip Mobile Printer, $104.48