This Glowing Lightning Cable Is the Perfect Stocking Stuffer
It's the most entertaining charging cable on the market!
by Inverse Loot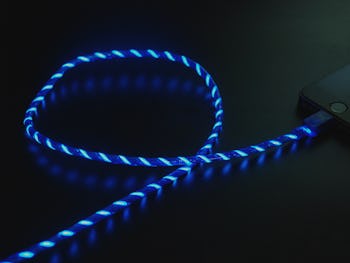 stacksocial
Not all lightning cables are created equal. Most are so annoyingly flimsy that you find yourself getting a replacement every few months. Others are so incredibly short that they require you to be next to the outlet just to be able to use your phone while powering up. Some are just plain dull. Oh, and more often than not, these charging cables are stupidly expensive. Who wants to drop their hard-earned dough for some cable that would not last long anyway?
The Glowing iOS Lightning Charging Cable is the funky and efficient version of the standard Apple Lightning cable. It's unique in the sense that it emits a subtle glow when you connect it to an iOS device, and it's helpful because it lets you know how fast your gadget is charging through its electroluminescent (EL) technology. Because sometimes, you just have to see how quick your phone is juicing up without having to reach for it. It's especially convenient at night, eliminating the trouble of finding your charging phone in the dark. The light that flows through the cord shows the charging speed — the higher the current, the quicker light passes through the wire.
Now that Christmas is just around the corner, this makes for the perfect stocking stuffer, don't you think? Measuring 2.6 meters and weighing 1.7 ounces, it won't take too much stocking space. Typically priced at $20, this stylish cable is now $11.99 exclusively for Inverse readers.