Planned Parenthood Has a Way for You to Test for STD's Using Your Phone
Discoloration? Itching? There's an app for that.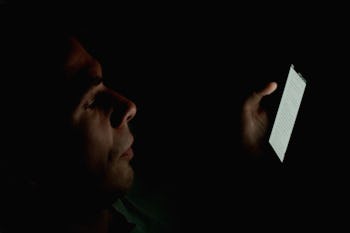 Flickr.com/Japanexperterna.se
There are a few apps that let you identify STDs or discreetly share sexual health info with partners — but Planned Parenthood's new online STD testing is diagnosis and treatment wrapped into one appy package. It's only being rolled out in California for now, but those in the Golden State can test for chlamydia or gonorrhea without leaving home. For $149, Planned Parenthood will send you a test kit — presumably FDA-approved, though Planned Parenthood didn't immediately return a phone call — so you can mail back a urine sample. (There's a self-addressed package in the the kit, no oversharing convos with the mailman required.) Update: "Laws and policies related to telehealth vary by state — in some states, real-time video interaction is required, while in others (like California), it's not," Jill Balderson, a Planned Parenthood vice president, wrote in an email to Inverse.
If the test comes back yes, Planned Parenthood will notify you via the app. It can also write a prescription for antibiotics (in the case of chlamydia) or give you directions to an office for a shot (for gonorrhea treatment). The CDC's recommendations for STDs go beyond chlamydia and gonorrhea testing — particularly for men who have sex with men and for pregnant women — but this seems like an easy way to have your downstairs bases pretty well covered.
If you're wondering why Planned Parenthood is making it easy to cut out the middle-person of a healthcare visit, well, STDs still carry a lot of stigma. People might be inclined toward at-home tests likely because "there is, unfortunately, still stigma around STDs, which can prevent people from obtaining the health care they need," Balderson said. "We want everyone to be able to get the health care they need without shame or stigma, and technology can deliver care in a way that people may be more comfortable with."
Just don't tell Michigan lawmaker Gary Glenn, who reportedly uttered the words: "If some young person hears at school that it's OK to be gay and then comes down with a fatal disease as a result, school officials should be held legally liable." Family planning and family values, so oddly forever feuding.