'Office' Revival Could Bring Dwight's 'Star Trek: Discovery' Dreams to Life
Dwight might get the chance to freak out over a whole new 'Star Trek.'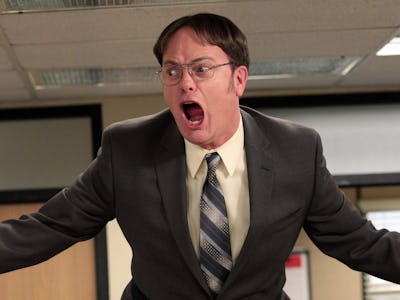 NBC
The people person's paper people, aka the Dunder Mifflin Scranton crew, could very well be reuniting for a The Office revival — no matter how you feel about that news.
On Monday, TV Line broke the news that NBC is reportedly eyeing a revival of its hit series The Office. Citing anonymous sources, the story claims NBC is working on a revival featuring old and new cast members from the Dunder Mifflin paper company branch in Scranton, Pennsylvania, that would premiere sometime in the 2018-2019 season. Steve Carell's Michael Scott would not be involved.
NBC declined to comment. However, network president Bob Greenblatt previously mentioned The Office as a part of his revival wishlist about a month before NBC's wildly successful relaunch of Will & Grace.
The Office originally ended in 2013 after nine seasons and 42 Primetime Emmy Awards nominations (including five wins). Carell's departure from the series' lead role in Season 7 marked a sharp decline in viewership, so Carell's supposed lack of involvement in the reported revival has been a point of contention online since the announcement.
But a The Office revival presents a rare opportunity to launch beloved characters back into a decidedly interesting and complicated culture.
Inverse spoke with actor Rainn Wilson back in October about his latest role as Star Trek: Discovery's resident smuggler and con-man, Harry Mudd. Wilson, best known for his role as super-nerd and lovable hardass Dwight K. Schrute on The Office, reflected on how Dwight — a noted purist when it comes to his fandoms — would feel about Discovery.
"You know, normally, I would say Dwight wouldn't like anything," Wilson said. "But, I actually do believe this, and I'm not saying it to plug the show. I think Dwight would love [Discovery]. I think he would love it. I think he would side with the Klingons. They value loyalty, tribalism. They're bloodthirsty. They never bluff.
"I think he would love it."
Some fans would also love to see Dwight and the gang back on screen. And while there's no official word yet, it wouldn't be out of the question to get a little psyched.