'Ocean's 8': Finally, the First Official Poster Is Out
We're loving the all-female cast.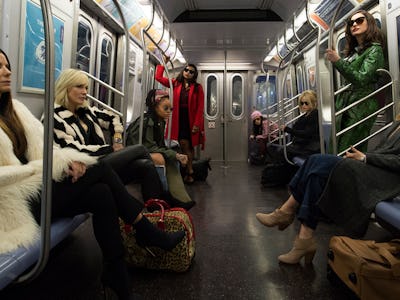 Warner Bros. Pictures
The all-female cast of Ocean's 8 unites in the very first poster for the heist film. In short, it looks totally haute.
In Ocean's 8, Sandra Bullock plays Debbie Ocean, sister to George Clooney's character from the Oceans trilogy. The first thing she does after getting out of jail is to plan a jewelry heist at the annual Met Gala — just like her brother. She recruits seven other master thieves onto her team: Lou (Cate Blanchett), Nine Ball (Rihanna), Amita (Mindy Kaling), Constance (Awkwafina), Rose (Helena Bonham Carter), Daphne Kluger (Anne Hathaway), and Tammy (Sarah Paulson).
In the first official poster, the eight team members lines up against their own strip of red backdrop. Each character has a decidedly unique style to them, and at least for the poster, every one of them has huge sunglasses on. Perhaps they have to keep a low profile when doing some reconnaissance for the job? The tagline reads: "Every con has its pros."
Here's the first official poster in all its glory:
Ocean's 8 is written and directed by Gary Ross, best-known for The Hunger Games — but also Seabiscuit and Pleasantville. The film also stars Damian Lewis as Debbie's former lover and the target of the heist. Richard Armitage plays an art curator named Claude Becker. James Corden and Dakota Fanning also have roles, and we can probably expect a few cameos from original Oceans cast members such as Matt Damon and Carl Reiner.
The last film in the franchise Ocean's Thirteen, came out in 2007 and closed out the Ocean's Trilogy. Returning to this world with an all-female cast marks a bold new direction for Oceans, one that looks like it will be a star-studded, epic spectacle worthy of the franchise.
Oceans 8 premieres in theaters on June 8, 2018.