How Net Neutrality Could Affect Bitcoin's Skyrocketing Value
This could be a problem, but there is a way around it.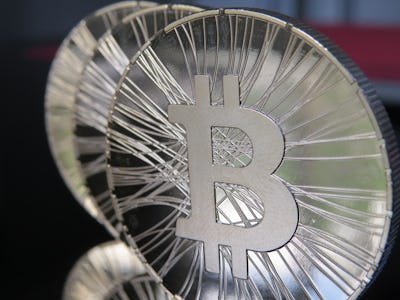 Flickr / antanacoins
The Federal Communications Commission voted Thursday to repeal the net neutrality rules, and it could spell big changes for cryptocurrency.
While bitcoin is easy enough to get hold of now, sudden changes to the landscape could give internet service providers the ability to throttle or otherwise control access, limiting the ability of bitcoin users to mine or exchange the blockchain-based cryptocurrency. Fans are already cooking up plans to fight against these measures.
"ISPs could potentially have the power to control access to exchanges, the speed of transactions, and even create and prioritize accessibility to their own cryptocurrencies, which is not such a crazy idea when you think of all the places in this country where a single ISP has a monopoly," Justin Tabb, CEO of internet startup Substratum Network, told International Business Times.
After the FCC voted to remove internet services from "Title II" regulations, providers now have the ability to choose to restrict access to certain services. Opponents fear that this could mean ISPs packing up, say, a "movie package" that costs extra on top of your monthly bill. In the case of cryptocurrencies, this could mean an ISP picking a site they have a deal with.
"The average person goes to Coinbase to buy Bitcoin, Ethereum, or Litecoin — the average on-ramp is an exchange, and those are easy to block," Marvin Ammori, a board member of Fight for the Future, told Motherboard. "If Comcast is the monopoly provider in an area, the provider could decide there's a preferred Bitcoin exchange."
Right now, Bitcoin is enjoying a sudden burst of interest. Its rallying price point has moved from $2,000 in May, to $8,000 in November, to as high as $14,000 this month. Coinbase has skyrocketed to the top of the iPhone app listings in the United States. The Bitcoin subreddit shot past the investing subreddit in terms of subscriber count. If an ISP suddenly decides to favor a certain wallet over another, it could dampen interest and cause a dip in investment.
Cryptocurrency makers aren't taking any of this lying down. In fact, they're considering ways to use the underlying technology to fight against net neutrality repeal. The community behind Ethereum, the second largest cryptocurrency in the market, has started planning out how to leverage the blockchain ledger that tracks transactions to bypass potential traffic shaping measures. An Ethereum-based system could run in the background, which would allow users to set up nodes and provide unrestricted internet access through back channels.
"If we get some crazy net neutrality regulation, then they can expect a crazy mesh-network fire-back," Ethereum developer Karl Floersch told CoinDesk.
The fight is on to protect the net.