The REVL Arc Camera Gives You Everything GoPro Doesn't to Help You Go Viral
And it's pretty much succeeding.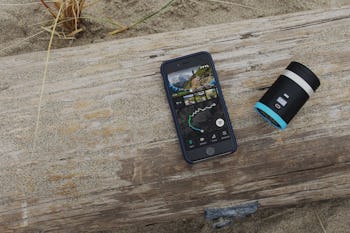 Revl
Small and portable action cameras, like GoPro, have been used to film everything from viral videos of death-defying stunts to your aunt's weekend getaway in Cabo.
If you've ever used a GoPro, you'll know you can strap it to your head or your chest and pretty much take it anywhere you'd like. But turning your POV footage into a sweet video is a whole other story, one that takes a decent amount of video editing skills.
REVL, a San Francisco-based startup, wants to let you to shoot GoPro-quality footage and give you the ability to turn what you've filmed into a video right from their app. They announced the launch of their 4K smart action camera, the Revl Arc, in November, with a sale available right now where it's running $100 less than the normal price.
I got the chance to mess around with the Arc for a few days, and the camera proved to be able to shoot better video than a GoPro. And that's before you throw in the editing app, which isn't all the way there yet but offers something its competitor just doesn't have.
As you can see above, the camera comes with monopod, two batteries, a charger, five different color lens attachments, and extra clamps to hold it in place. All of this will run you $500, though a deal available today cuts the cost to $400. That's comparable to the price for the base version of the GoPro HERO6.
To get this gadget ready to go, all you have to do is pop in a battery (which admittedly took me a little while to figure out how to do without a manual), charge it, and download the app. From there you'll have to connect the camera to your phone using it a WiFi connection. This is how you'll quickly download all of the footage you film to your phone.
Now let's take a look at some of the features I noticed while I was using the Arc.
Stabilizer
The most notable would is the built-in camera stabilizer. If you've seen GoPro footage on Youtube you'll know that it can be so shaky at times that you have no idea what's going on. You don't have to worry about this with the Arc.
The back of the cylindrical camera is retrofitted with an electronic stabilizer that will keep the camera level to the horizon no matter what you're doing. This makes for smooth videos without any of that distracting jitteriness.
High-Quality Video
The Arc lets you shoot at a 4K resolution at 30FPS, which is pretty impressive for such a little thing. I personally don't own a screen that can support 4K, so I stuck with the next best thing 1080p.
Even at this resolution I found the camera running out of battery fairly quickly. I took it out one night full-charged and after roughly an hour of filming it was just about exhausted. So remember to bring along the second battery if you know you have a lot to to film.
Automatic Editing
This was also a pretty great feature. Once you get done shooting the Revl app uses machine learning to scan through the video you just filmed to search for the best clips. The app then divides them up into six second clips it calls "Moments."
This comes in extra handy if you filmed a really long video. Instead of having to look through the whole thing yourself, the app will more often than not be able to pick out the best parts. Once you have a couple of moments you can send them to your friends or stitch them together to make a video slideshow.
Alternatively you can go in and cut up your video how you'd like if the app missed a part you wanted.
Video Creation
The app gives you the option to put together videos with the footage you've shot by navigating to the "Projects" tab in the app. This is a fantastic idea seeing as video editing software like Adobe Premiere can be pretty pricey and has a learning curve. But the execution of the app is still a little too on the basic side to satiate more experienced users.
Here's a quick video I made. All you could really do line up a bunch of clips, speed them up or slow them down, and add music. No transitions, no effects, no text options. I'd really like to see part of the app improved, as it could give a lot of people the ability to start making some pretty sweet content. Still, this is enough to get people started.
The Bottom Line
Overall, I think the Revl Arc is giving GoPro a run for its money. They Revl app gives you immediate access to video you shot and even lets you edit it on the spot. The only real downsides were the battery life, which could be an issue if you want to film all day; and the video creation option in the app which is skeletal at best.
For only a $100 more than the GoPro, I'd strongly consider this if I wanted to take up a life of extreme sports and Youtube stardom.