'Walking Dead' Actor Spoils Their Big Death With a Hilarious Photoshop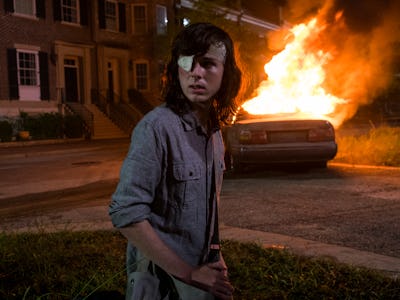 AMC
The mid-season finale of The Walking Dead didn't end very well for those on the side of Alexandria. Now, several days after "How It's Gotta Be" aired on AMC, the latest victim is having some fun in light of the misery.
Spoilers for The Walking Dead ahead.
In the most recent episode of The Walking Dead, "Coral" Carl Grimes showed everyone he had been bit by a walker. It's unclear exactly when Carl was hurt, but fans theorize it happened weeks ago when Carl tried helping out to a stranded survivor, Siddiq, when they were attacked by stray walkers. It's pretty emblematic of the show's themes, in which kindness comes at a severe cost.
In any case, actor Chandler Riggs confirmed with The Hollywood Reporter that Carl is indeed on the way out. Now, in the wee hours of Wednesday, Riggs decided to have some fun with Carl's exit. On Twitter, Riggs tweeted: "don't worry guys, i'll be in the 2nd half of the season. in a white dress on a bridge."
Along with the tweet came a bizarre photoshop of Rick (Andrew Lincoln) being caressed by his wife Lori, Carl's mom, with Carl's head over her body. The picture comes from an earlier episode of The Walking Dead in which Rick hallucinates Lori in a white dress. With Riggs's tweet it's, uh, important not to think too hard about it. It's just a joke.
While fans are certainly laughing at the tweet, some tweeted back that they're still in mourning.
In interviews following the mid-season finale, Riggs confirmed that he is finished with the series. At 18, Riggs is planning to attend college, but he's taking a gap year to pursue other opportunities in Hollywood.
"I decided that I wanted to not go to college for at least a year and move to L.A. and focus on acting and music," he said. "It ended up being a great thing because now I get to do all kinds of other stuff that I haven't been able to do in the last eight years."
Still, leaving The Walking Dead wasn't his decision, he's told the press. "It was all story related. It made sense story-wise for it to happen for Rick and Michonne and all the other characters."
The Walking Dead will return February 18 at 9 p.m. Eastern on AMC.