Netflix's 'Bright' Has a Retro Hotline With Will Smith and a Rude Narrator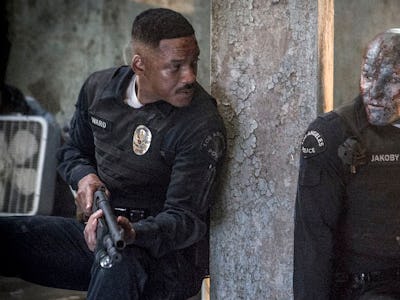 Netflix
Why is Netflix investing in a toll-free hotline to promote its upcoming fantasy buddy cop movie, Bright? If asked, the snarky and kind of rude but enthusiastic hotline narrator will claim that it's because Netflix is trying to return to a simpler time, back "when phones were used to call people, a time before phones became exclusively for rating tacos."
"We've been told nostalgia can evoke an emotional response," the narrator of the new 1-900 hotline says. "Hope it's working on you. Is it?"
On Monday, Netflix announced a new, retro ad campaign for the Will Smith and Joel Edgerton-led Bright, which merges magic and fantasy with the grit of a classic cop thriller. Dial 1-844-SEE-BRIGHT, "drop the attitude," and you'll be led to a menu and prompted to dial various numbers for, well, various results. The toll-free number is a callback to various '80s and '90s promotional hotlines, including the He-Man television show hotline, various paid-for video game cheat code hotlines, and the G.L.O.W. hotline.
The options for the Bright hotline are surprisingly varied, with some numbers leading you to some pre-recorded audio of Smith's character Daryl Ward yelling motivating slogans or tearing you down, and even Edgerton's orc character Nick Jakoby guiding you through a meditation session.
You can also listen to Jakoby punch a dude, so there's that.
Oh, and in case you didn't realize that Bright is a Netflix-exclusive film, one of the options will remind you of all the places you can watch it. Those places include, but are not limited to, a couch, bed, bus, train, airplane (though this options discludes pilots), waiting in line for rhubarb pie, the summit of Mount Kilimanjaro, and Delaware.
Here's the official synopsis for Bright:
In an alternate present day, humans, orcs, elves and fairies have been coexisting since the beginning of time. Two police officers, one a human, the other an orc, embark on a routine night patrol that will alter the future of their world as they know it. Battling both their own personal differences as well as an onslaught of enemies, they must work together to protect a young female elf and a thought-to-be-forgotten relic, which, in the wrong hands, could destroy everything.
So, while this hotline is a fantastically fun bit of nostalgia that'll keep you occupied for a few minutes, things will probably get a bit dark in Bright.
Bright premieres on Netflix on December 22.