Tinder is on Its Way to Becoming Facebook for Dating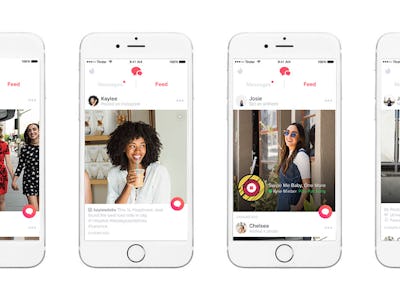 Tinder
"Welcome to the world beyond the swipe," Tinder's announcement of its new Feed begins.
The new feature has begun testing this week on select Canadian, Australian, and New Zealander users' apps. Inverse reached out to several users in those countries but could not find anyone who has received the new feature.
The new feature is meant to bring your forgotten matches back to life and "give you another reason to connect." As in, those you've matched with and haven't begun chatting with could lure you into a conversation through their latte art on your Feed.
The way it works is that Feed, accessible from the Match List, will display real-time updates of your matches' activities such as their Instagram posts or Spotify top artists. Tinder hopes that by seeing a match is, say, a hardcore Lorde fan like yourself, you may get the courage to chat them up.
Even Feed's name is reminiscent of Facebook's iconic News Feed. By generating a feed for users, Tinder will increase interactions, and in turn IRL meetings, between the matches it makes.
According to four Tinder users in Canada, the roll out hasn't reached them yet. Tinder appears to be using a slow-paced testing strategy there and the other two countries.
But when it does reach all users, it will be the latest way Tinder is attempting to reach a bigger share of the online dating market. For example, the company added its Desktop version earlier this year to help its office-dwelling users swipe at work.
"With Feed, we're giving users the insights they need to strike up fun and engaging conversations with new and existing matches," Tinder's Chief Product Officer Brian Norgard said in a statement. "We anticipate this new feature will lead to an increase in messaging, which in turn creates more opportunities for real-world connections."
With Feed, Tinder's parent company Match Group — which also owns OkCupid, PlentyOfFish and Match.com — will elevate it up to a full-fledged dating site catering to all types. For example, OkCupid recently announced a "Discover" feature to help users find matches in tune with their hobbies and activities.
Tinder tells Inverse there is no set date for Tinder Feed's U.S. launch.