Pope Francis Goes Full Captain Planet in New Encyclical
Reducere, reusum, redivivus!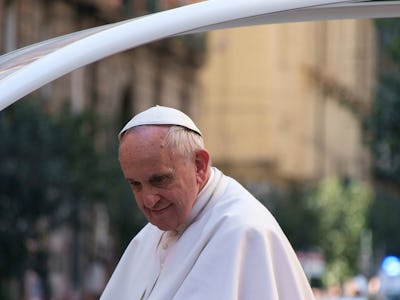 Flickr.com/raffaespo
Pope Francis is swinging for the big green fences with his new encyclical "Laudato Si'", subtitled On Care For Our Common Home (you know, Earth). Though not perfect — there is an undeniably undercurrent of techno-apprehension in the document — LS gets a few things smashingly right. Like Captain Planet would have said if he lived in Vatican City: Reducere, reusum, redivivus!
Here's a nineties cartoon-style breakdown of the document, which represents a watershed moment in the relationship between religion and science (and probably the Republican primary). Cool Pope is throwing down.
Earth
"It may well disturb us to learn of the extinction of mammals or birds, since they are more visible. But the good functioning of ecosystems also requires fungi, algae, worms, insects, reptiles and an innumerable variety of microorganisms. Some less numerous species, although generally unseen, nonetheless play a critical role in maintaining the equilibrium of a particular place."
Wind
"Some forms of pollution are part of people's daily experience. Exposure to atmospheric pollutants produces a broad spectrum of health hazards, especially for the poor, and causes millions of premature deaths. People take sick, for example, from breathing high levels of smoke from fuels used in cooking or heating. There is also pollution that affects everyone, caused by transport, industrial fumes, substances which contribute to the acidification of soil and water, fertilizers, insecticides, fungicides, herbicides and agrotoxins in general."
Fire
"A very solid scientific consensus indicates that we are presently witnessing a disturbing warming of the climatic system. In recent decades this warming has been accompanied by a constant rise in the sea level and, it would appear, by an increase of extreme weather events, even if a scientifically determinable cause cannot be assigned to each particular phenomenon."
Water
"In tropical and subtropical seas, we find coral reefs comparable to the great forests on dry land, for they shelter approximately a million species, including fish, crabs, molluscs, sponges and algae. Many of the world's coral reefs are already barren or in a state of constant decline … This phenomenon is due largely to pollution which reaches the sea as the result of deforestation, agricultural monocultures, industrial waste and destructive fishing methods, especially those using cyanide and dynamite. It is aggravated by the rise in temperature of the oceans."
Heart: Climate change stands to hit the poorest the hardest.
"Many of the poor live in areas particularly affected by phenomena related to warming, and their means of subsistence are largely dependent on natural reserves and ecosystemic services such as agriculture, fishing and forestry. They have no other financial activities or resources which can enable them to adapt to climate change or to face natural disasters, and their access to social services and protection is very limited."
Reading that, you might want to reboot the pope as a big-oil fighting environmentalist, but you're too late. The trailer has already been made: