'Daredevil' Star Says "It's a Secret" If MCU Characters Will Be on Netflix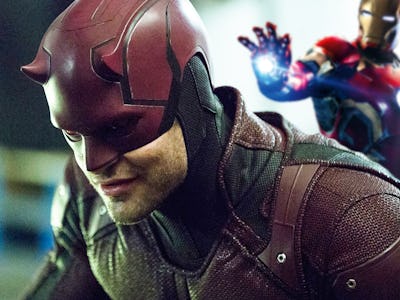 As the Marvel Cinematic Universe grows bigger and big, what with Infinity War just around the corner, fans can't help but wonder if we'll ever see some of that epic big-screen action in Netflix's corner of the MCU. That question, if the Avengers will ever pay the Defenders a visit, has loomed ever since Daredevil premiered. It was always a longshot — the MCU movie stars are, well, movie stars, so getting them to do a TV appearance is tricky. Getting anyone at Marvel to give a consistent answer about whether TV and movies will ever crossover is downright impossible, although Daredevil star Charlie Cox recently offered a non-denial denial that's actually somewhat intriguing.
While speaking at Long Island's ACE Comic Con over the weekend, the Daredevil star responded to what must've been an expected question about whether or not Marvel Cinematic Universe characters would appear in the upcoming third season of the Netflix original.
"I'm afraid I can't tell you that at all," Cox responded. "That is a secret."
The vague answer could be nothing, but it's worth noting that earlier in the con, Cox himself offered up a much more straightforward answer when asked if there were any plans for him to appear in a movie (like say, Infinity War).
"Not that I'm aware of," Cox responded. "That's not a conversation that has been had with me, certainly."
It's entirely possible — likely even — that Cox was just being coy or adhering to some specific stock answer Marvel brass insisted he respond with, but it's still curious that he's free to say that he won't be in a movie, but whether or not any movie character with be in a Netflix show is a secret.
For what it's worth, Cox also joked that the big-screen hero he'd most like to come visit Daredevil would be Iron Man, as played by Robery Downey Jr.
"I think he's quite cheap to get as well," Cox said, sarcastically referencing the hefty paycheck the actor gets for playing Tony Stark. "I'm sure we can figure that out. His daily rate is, like, way low."
Daredevil Season 3, which, let's be real, probably won't feature any major heroes from the MCU, is expected to premiere on Netflix in 2018.