Why the Geminid Meteor Shower is the "King of the Meteor Showers'
You might see two meteors a minute.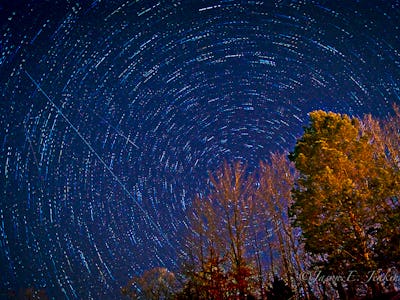 Flickr / j-dub1980(THANK YOU FOR 100k+ Views)
No one looks forward to hump day, but for stargazers, this week is a little different.
One of the best meteor showers of the year will streak across the sky this Wednesday night and Thursday morning. At its peak, the Geminid Meteor Shower can produce up to 120 multicolored meteors, which is why it's so fun to watch, despite the nippy weather in the Northern Hemisphere.
Though the shower gets its name from the constellation Gemini — the place from which the meteors appear to emerge — the shower's parent body is a Near-Earth Object called 3200 Phaethon, which crosses Earth's orbital path every year in mid-December. The debris from this object is responsible for the meteors we see in the shower.
Like any cosmic event, getting the best view involves some planning and a little luck.
Where can you see the Geminid Meteor Shower?
The best seats in the house are across the southern and western U.S. where a cloud-free sky is expected to let onlookers get a crystal clear view of hundreds of meteors. Unfortunately, the midwest will be covered by clouds during the shower due to the low-pressure system known as the Alberta clipper.
The Northeast and Northwest are a little bit of a toss up. Partly-cloudy conditions are expected to obscure the sky for part of the night, but some breaks in clouds should allow residents to catch a glimpse of the Geminids.
What time will you be able to see the meteor shower?
Night owls are in luck. Anywhere from 12 a.m. to 2 a.m. local time is when you'll see the most action. That's when the radiant point — or the point in the sky from which the meteors seem to come from — is at its highest point.
You might need an extra coffee or two at work in the morning but hey, this galactic light show is worth it.
Why this year's Geminid shower is better than last
The Geminid shower is going down a few days before the new moon, or when the moon moves between the Earth and the sun and is invisible to us earthlings. This means you won't have to worry about the light from the moon washing out the dimmer meteors.
Last year's Geminids happened during a full moon, which made it difficult for anyone to see the shower in all of its glory. So if you're bummed about last year's moon interference, this year should blow you away.
If all goes according to plan, it'll be just the mid-week relief we needed.