Instagram 2017 Best Nine Photos: The Secret History
Before it was an annual holiday meme, it wanted to be a Tinder-killer.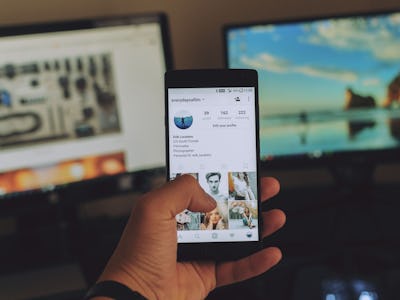 Unsplash / Erik Lucatero
The end of 2017 is upon us, and now, unlike your average #tbt, you unabashedly post nine of your best photos from the year. The #bestnine photo grid is an age-old tradition — well, since 2015 — that allows Instagrammers to celebrate their year-ends by automatically generating the most popular photos from 12 months. Here's how you can walk down that proverbial memory lane one last time before we greet 2018 at midnight.
Here's How to Get Your #2017bestnine
Just go to the 2017bestnine.com website or download the app for your iPhone. All you have to do is type in an Instagram handle from a public account, and it will automatically generate the top nine most-liked posts from 2017.
Also, the 2017 app version has been redesigned so that you can choose to display your photo grid vertically — perfect for sharing via Instagram Stories.
To its creators, Yusuke Matsumura and Mai Sekiguchi, the program started out as something completely different. Co-founders of Japanese mobile app company Lip Inc., #2015bestnine was going to be so much bigger; it would revolutionize dating, they hoped.
Matsumura came up with the idea for a better dating app while attending a startup training in San Francisco.
At least, that was the plan.
"During my stay, I was surprised to see that many people were 'swiping faces' on apps," he told Buzzfeed in an email. "At the time, this was somewhat of a rare thing to see in Japan. I quickly downloaded as many apps as I could and started swiping. At first, matching with someone was an exciting experience, but I soon learned that the thrill died when nobody actually started talking. Because really, what do we know about those people? Nothing."
He decided that Instagram, which could show more of a person's life (or at least the picture perfect version that they want to show), would be a better way to learn about potential matches.
"Nine is designed to make matches between people focusing more on their personality and inner beauty rather than appearance or status," Matsumura said.
To drum up excitement for the app, Lip started a marketing campaign, 2015bestnine, which created a collage of the most popular nine photos that a user had posted the previous year. Fifteen million people created collages, including Kourtney Kardashian. It was a viral hit.
About 130,000 of them also signed up for an opaquely described "match-making service" set to launch the next year, though many have questioned whether they knew what they were signing up for. Nine, the dating app, never quite took off. (The website doesn't seem to have been updated since 2015.)
Luckily, however, Best Nine stuck around in its Instagram version and is now in its third iteration.
The Best Nine app is no longer about finding love, but it does let you see how much love you've gotten for each photo shared.
And that's almost as good … right?!
This post has been updated.
Hello! You've made it to the end of the article. Nice. Here's a related video you might like: "The New Snapchat In 60 Seconds"