Call of Duty World League Dallas Event Evacuated Following Bomb Threat
We'll update you on the full story as it unfolds.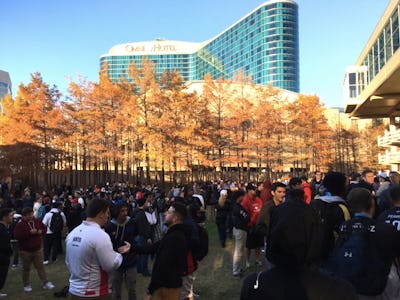 Dylan Hetelle
December 8, 2017 marked the kick-off event for the Call of Duty professional gaming season, but shortly after 4 p.m. local time in Dallas, alarms went off calling for a building-wide evacuation, interrupting the middle of intense Round 2 competition at the Kay Bailey Hutchison Convention Center.
So what really happened?
This article has been updated as more information is made available.
Early reports are conflicting. Staff onsite told Inverse during the evacuation that one or more attendees at the event may have exited through one of the many doors in Hall F marked "only for emergency," triggering alarms that led to the evacuation.
Initially, only those inside Hall F — where the Call of Duty competition was being held — were required to leave for what seemed like a harmless mistake. But within a few short minutes, a building-wide evacuation was issued. Whether it was due to a mandatory protocol or a legitimate emergency was unclear at first as hundreds and perhaps a thousand attendees streamed outside.
The official word from event co-organizer MLG was, for a time, that the event was temporarily "suspended" with more updates to come:
Some members of the Kay Bailey Hutchison Convention Center security team mentioned rumors of some kind of bomb threat issued which led to the evacuation.
In addition to mandating that everyone leave the building, staff set up a perimeter forcing everyone back a "safe" distance from the building itself.
According to Dallas News, The Ticket radio show — which was broadcasting live at the event — reported that there had been a bomb threat made. But these reports remained unconfirmed for a time as emergency personnel assessed the scene.
Rebecca Lopez, a local reporter with WFAA TV reported the following roughly an hour after the initial evacuation:
The local NBC news affiliate also reports that Dallas police dispatch received a bomb threat around 4 p.m. local time, which is why the maximum safety measures are being taken to ensure the safety of all attendees.
As of 6:50 p.m. local time, the live stream is still suspended and there's no official public announcement as to when competition will resume.
CWL is scheduled to run all weekend in downtown Dallas from Friday, December 8 through Sunday, December 10.