New 'Wormwood' Trailer Blurs Terrifying CIA Fact With 'Netflix' Fiction
A new trailer blurs fact and fiction.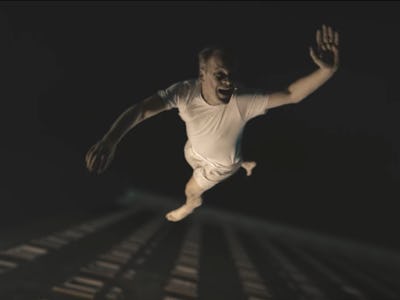 Netflix
In 1953, the United States government sanctioned MK-ULTRA, an infamous CIA program that would result in morally questionable human experimentation and the death of CIA employee Dr. Frank Olson. Netflix's upcoming true crime mini-series, Wormwood, is set to explore the circumstances surrounding Olson's death, as his family believes he was murdered by the CIA as a cover-up after he saw too much.
Wormwood got an official, full-length trailer on Monday, showing how this upcoming mini-series will blend documentary storytelling with fictional elements.
Here's the official synopsis for Wormwood:
This six-part series explores the limits of our knowledge about the past and the lengths we'll go in our search for the truth. A family story of one man's sixty-year quest to identify the circumstances of his father's mysterious death. A quest which brings him face-to-face with some of the darkest secrets of the United States.
The series got an initial teaser back in August, but this new, full-length trailer gives audiences a more in-depth look at the narrative of the story. Olson, portrayed by Peter Sarsgaard, fell from a hotel window to his death in 1953. After 22 years of denying an active role in Olson's demise, the CIA was forced to admit it had spiked a glass of Cointreau with LSD right before his death, which was later reclassified as a drug-induced suicide.
Olson's family believes the CIA played a more active role, going so far as to allege murder.
As the CIA conducted its MK-ULTRA experiments on unknowing victims (cranking the moral bankruptcy of its actions up by a factor of 10), Olson is thought to have been a part of the experiments after witnessing some of the horrors that befell other people. As MK-ULTRA was, ultimately, about unlocking the secrets of mind control to use as a weapon against America's enemies, Olson is believed to have fallen under the category of "enemy" at one point.
Conspiracy and fact meld together in real life, so it's only appropriate that Netflix's show weaves a complicated narrative that explores both fact and fiction.
The six-part mini-series Wormwood premieres on Netflix on Decemer 15.
If you liked this article, check out this video about MK-ULTRA.