Carrie Fisher's Beloved Dog Gary Has a Cameo in 'The Last Jedi'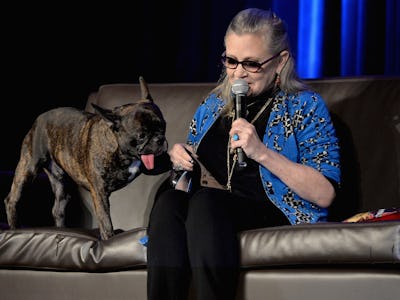 Getty Images / Daniel Boczarski
Unless you count banthas as pets, the Star Wars universe is sorely lacking animal companions. It seems Star Wars: The Last Jedi will change that, and it's all thanks to General Leia Organa's IRL best friend.
The late, great Carrie Fisher famously loved her service dog Gary, who was constantly at her side until Fisher's death in December 2016. Gary has been sitting through interviews and photo shoots, as well as lounging about film sets his whole life — now, he's starring in the franchise that made his mom a household name.
On Wednesday, Twitter user irishgeekgirl tweeted at Last Jedi director Rian Johnson to ask if a three-eyed alien seen in a promotional image is, in fact, Gary.
"YES!" Johnson responded. "Wow, good eyes."
(Side note: It is ridiculously impressive that someone was able to figure this out.)
This wrinkly little creature, being held by an alien behind Rose Tico and Finn, is Fisher's sweet Gary, either decked out in a prosthetic head or digitally altered to look like an alien pup. As Rose and Finn are hanging out on the razzle-dazzle casino planet of Canto Bight in this photo, it's probably fair to assume that alien Gary's alien owner is an important person in the galaxy. Or, y'know, maybe this person just has a lot of money and a lot of free time.
Pets aren't the norm in the Star Wars universe. It's always seemed like droids behave as companions more than animals, which have acted as tools for the most part. This look into Gary's role in The Last Jedi indicates that, like many things, pets might be a luxury most cannot afford.
But, one thing is for sure: whether Gary is an alien or a regular pup, he's the best boy in the galaxy.
Star Wars: The Last Jedi premieres in theaters on December 15. Check out all of Inverse's coverage on the film right here.