Team Arrow Is Fractured, And Not Whole, in 'Arrow' Mid-Season Finale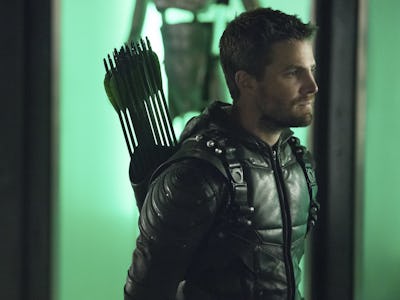 The CW
The Arrowcave just got a lot quieter. In the mid-season finale to The CW series Arrow, Oliver's little family of misfit vigilantes break away from Oliver's leadership, with a clear line down the middle between veterans Oliver (Stephen Amell), Diggle (David Ramsey), and Felicity (Emily Bett Rickards), and "The New Class" Renee (Rick Gonzalez), Dinah (Juliana Harkavay), and Curtis (Echo Kellum).
A week after Team Arrow made the coolest delayed entrance in television crossover history, "Irreconcilable Differences" sees them split apart. Renee, aka Wild Dog, reveals himself to be the key witness to testify Oliver's identity as the Green Arrow. Of course, Renee wouldn't do it without good reason, and he did have one: It was to protect his daughter. That's a move Oliver would also have done, and has done, a face he admits to Felicity in the Arrowcave.
Still, mistrust was had and Arrowverse Detective Comics breaks apart. Dinah and Curtis also follow Wild Dog's exit, as Dinah is insulted her private reunions with her ex-lover Vigilante made her suspect, while Curtis — a hacker who has done a lot of spying in his superhero career — was spied on by his teammates. Helix is still on between him and Felicity, but Curtis is Mr. Terrific no more.
A year after they formed in Season 5, now is time for Team Arrow to finally have divisions. If it feels incomplete, or not as big of a deal as it should, you aren't alone. In all of Arrow history, this team has had more than enough exits, betrayals, and roster changes. Remember when Thea was a member of the team? And Sara? Arrow is doing its darnedest to sell the high stakes of Team Arrow's breakage, but its storied history makes this event feel more cyclical than catastrophic.
How long will Team Arrow have this division? Enough for Cayden James's own League of Pretty Ordinary Gentlemen to become a massive threat. The dad hacker played by (Michael Emerson) isn't working alone, having aligned with Star City's criminal elements — including Oliver's old gulag buddy, Anatoly — to finally take him down.
Arrow will return January 18 on The CW.