Will the Original Vine Stars Return for V2? We Asked the App's First Stars
The app could be back, but what about those who looped their way to fame?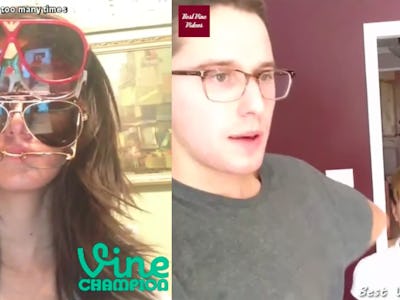 Vine
Vine might be coming back from the dead nearly a year after its unceremonious end. And while Wednesday's cryptic tease from the video app's cofounder had the internet rejoicing, what about those who became the first — and, at least for now, only — generation of Vine superstars? Inverse reached out to some of them to see whether they are excited about the prospect of resuming their video-looping ways.
Twitter shut the app down in January amid a series of budget and staff cuts. Since then, Vine's content has morphed into nostalgic internet memories, left to be compiled into YouTube clips. While Vine never attained the kind of popularity that similar apps like Snapchat or Instagram did, its unique format of looping six-second made it a cult classic among the internet faithful, who mourned its loss as one of the few unambiguously good things about being online.
One of the founders of Vine was listening, it seems, as cofounder Dom Hoffman tweeted an image Wednesday captioned "V2." Though he is yet to elaborate on his plans, this comes a week after a series of tweets in which Hofmann said he wanted to make a followup to the beloved app.
The news sent a shockwave through the Vine-loving internet, with one tweet from social media specialist Danny Fratella summing up the general mood.
But all jokes about former Vine stars rising from the dead aside, a number of them are excited yet cautious to get back on the platform that made them famous.
Exhibit A: comedian and actress Brittany Furlan, who was the most followed female star on Vine until November 2015, when she left the social network.
After we informed Furlan of the Vine 2 announcement, she understandably expressed some concern.
The 31-year-old became known for her humorous, raunchy Vines incorporating jokes snippets of her day-to-day routine. These included her dog, dating men, and singing along to pop music.
Another comedian who made a name for himself on the 6-second-video-loop app is Ben Cahn. Cahn, known for his awkwardly-staged funny Vines, tells Inverse he'd get on Vine 2 "in a heartbeat."
"Just imagining the influx of people flocking back to it is making me smile," he says, dismissing all the jokes about what Viners have been doing since the app shut down earlier this year.
"There have been ideas I've wanted to do that would only work on Vine, and I'm excited to have a fresh start and not have worry about engagement or numbers."
While there is no word in what Vine 2 will look like, it will be interesting to see what the formerly Twitter-owned platform comes up with in terms of branding.
Arguably one of Vine's biggest hurdles was monetizing its relatively big draw of niche comedians. Since Vine's shutdown, similar platforms like Instagram and Snapchat have upped their game by giving creators more freedom to work with in terms of video creativity. Take for instance, the wild popularity of Instagram Stories since its introduction in the past year.
There's also the question of who will back the app. For now, it's nobody: Hofmann indicated in his tweets last week that the Vine followup is an independent project. While Twitter did eventually kill Vine after giving it at best mixed support, its relatively seamless integration with its massive social media platform gave the app — and its stars — reach that would likely elude a V2 without any larger company behind it.
It's hard to tell if users would eventually lose interest again like they did with the original Vine, but Cahn says a second iteration will be especially fun to watch.
"Now that creators know what their voice is, there won't be that initial learning curve that really brought the community together," he explains, noting that Vine's initial niche user base revolved around figuring out the medium collectively. There's also an opportunity to avoid some of the pitfalls that cost Vine the casual users that are necessary to supplement its hardcore fans.
"Will there be stops in place to prevent the annoyances that drove people away?" Cahn says. He even wonders if a new Vine would tweak algorithms to keep certain niche content out of mainstream feeds.
He notes the original Vine had a "prevalence of subjective comedy bits that the masses seemed to love, but ultimately drove away more mature, older audiences." He gave "smack cam" and twerking as examples of these niche comedy trends. For those unfamiliar, it's better seen than explained.
One thing is for sure: Even a year after the app's death, you can always count on your favorite Vine star to make you laugh uncontrollably in public. Hopefully that will soon mean more than just seeking out their archive on YouTube or the old Vine site.