New 'Series of Unfortunate Events' Photos Tease Olaf's Best Disguises Yet
Proof the best is yet to come.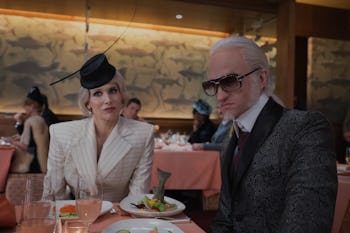 Netflix
Hardcore readers of Lemony Snicket's A Series of Unfortunate Events will tell you the best stuff really starts happening after the fourth book, becasue that's when all the disguises get off-the-chain hilarious. And now that the Netflix is headed into the 2nd season of the faithful TV adaptation, they've released new photo's teasing Count Olaf's (Neil Patrick Harris) most ridiculous get-ups yet.
On Thursday, Netflix released four new photos from season 2 of A Series of Unfortunate Events. Like the first season, this batch of episodes is set to adapt at least four books in the 13-book series, dividing each book up into two episodes. And the photos released appear to come from The Austere Academy, The Ersatz Elevator, and The Hostile Hospital.
And we know that because the Baudelaire orphans meet their bratty foil Carmelita Spats in The Austere Academy, Olaf is disguised as a trendy faux-rich person named "Günther" in The Ersatz Elevator, and of course, he is disguised as a doctor in The Hostile Hospital.
Not pictured in any of the new photos are scenes from The Vile Village, arguably the biggest turning point in the series. For the sake of those who haven't read the books, and want to stay unspoiled for season 2 of the show, let's just say that The Vile Village is where the Baudelaires decide to start turning the tables on Count Olaf a little bit.
The new photos also introduce fan-favorite villain Esmé Squalor (Judy Punch). With a name that references the J.D. Salinger story "To Esmé With Love and Squalor," this character makes Olaf's gang of bumbling bad guys a little more effective then they are in the first four books. Plus, if the episodes are true to the books, she'll have knives on her high-heels.
All in all, the new photos should get anyone pumped for the 2018 return of the only Netflix series which openly mocked Netflix.
A Series of Unfortunate Events returns to Netflix in the Spring of 2018.
Read Next: Lemony Snicket Tells Us He Doesn't Know Why People Like His Books