If Vine Returns, Will Its Unlikeliest Star Come Back? We Tried To Find Out
Meet Steve Addazio, Boston College football coach and Vine legend.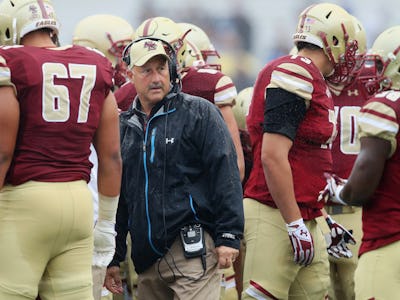 Getty Images / Maddie Meyer
Vine cofounder Dom Hofmann's cryptic tweet Wednesday that his much-missed video app might come back as a mysterious "V2" set the internet ablaze. But as we enter day two of figuring out just what the potential return of six-second loops means, one question is more important than all others: What about Steve Addazio, the football coach at Boston College, who four years ago became the mostun unlikely Vine superstar of all time?
Vine made plenty of celebs during its all too brief, all too brilliant run, some of whom have already spoken with Inverse about whether they would return for the cryptic V2. But true Vine aficionados know the app's greatest moments came not from its highly paid "influencers," but from the delightful oddballs who accidentally found their muse in six seconds or fewer of looped video. Many of these heroes were anonymous. One of them just led the Boston College Eagles to a 7-5 season and the Pinstripe Bowl — and we reached out to the university's athletics department to find out whether he might have a future on V2.
For those unfamiliar with the legend of Steve Addazio, Vine star, cast your mind back to June 20, 2013. The day seemed normal enough. LeBron James led the Miami Heat past the San Antonio Spurs in Game 7 for his second NBA championship. Man of Steel was tops at the box office. The Dow Jones had its worst day of the year up to that point. And, for reasons that remain lost to history, Boston College's first-year head coach decided to spend a summer practice recording seven vines, every last one of which prominently features the word "dudes."
Much as Vincent Van Gogh struggled to sell his art during his lifetime, his dude-centric vines went unnoticed until September, when sports blogs picked up on their brilliance. By then, Addazio had largely abandoned the medium, recording just two more before tacitly declaring his work complete and perfect.
But could V2 mean a return? Like any self-respecting artist, Addazio gives nothing away.
"Sorry, we won't have time to get comment from Steve on this right now," Jason Baum, associate athletic director for communications at Boston College, tells Inverse, in what has to be one of the most tolerant statements in journalism history. "We are in the middle of recruiting and bowl prep."
There's more from Baum, but first let's take a moment to recognize Addazio used one of his vines to make a Reservoir Dogs — or Reservoir Dudes, as this case would surely be — reference.
"I can say BC Football will always continue to explore the different social media platforms available to promote our program, including Vine if it returned," says Baum. As Alexander Pope would say, hope springs eternal.
For now, all of Addazio's videos remain archived on his old vine page, just waiting for the right moment to be revived. Baum acknowledges that the coach absolutely still has his internet fans.
"We saw quite a bit of activity on social the day Vine ceased operations with Coach Addazio's vines," he says.
That was a day of mourning, with the dudely vines there to see people through the dark. Maybe the mysterious V2 will mean Addazio can return to lead us all back into the Vine-soaked light.