The Smallest Camera Drone Will Save Your Holiday Family Photos
A mere $64 for a priceless family pic.
by Inverse Loot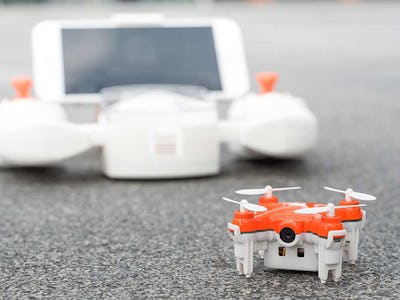 stacksocial
Now that the holiday season is here, family reunions are inevitable. And, with family reunions, come a million group selfies that no one can get right. Someone always gets cut off, or the whole group can't get themselves to squeeze into the frame, resulting in Uncle Sal volunteering to take the picture instead. But what good is a family photo if not everyone is included, right?
The SKEYE Nano 2 FPV Drone makes sure that doesn't happen again. Measuring just four centimeters wide and weighing a mere 17 grams, it's the world's tiniest drone. But don't mistake its size for inefficiency, it can take off, land, hover smoothly with built-in auto-functions, and take FPV videos and HD quality pictures you would want to print out and hang on the wall.
With its adjustable gyro sensitivity and 6-axis control, expect a steady flight while capturing fun family moments. It's also easy to use for even the most novice pilots. If you don't want to work with a controller, the SKEYE is equipped with Wi-Fi connectivity and can be alternatively controlled via an app on any iOS or Android device.
This impressive tiny drone typically costs $99, but Inverse readers can take one home today for only $64.