Why 'The Crow' Director Is Adamantly Against the Upcoming Remake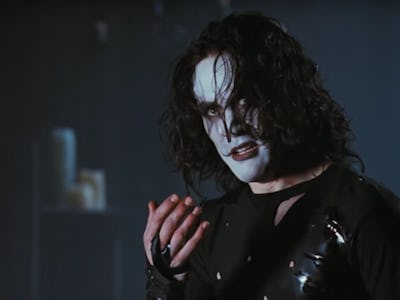 YouTube.com/Movieclips
There is no Crow without Brandon Lee; that's what director Alex Proyas is arguing, speaking out against the long-in-development remake of his cult hit 1994 dark superhero film, The Crow.
On Sunday, Proyas published a statement on his Facebook page detailing why there should not be a remake of The Crow. Citing artistic reasons, Proyas argues The Crow is not worth "remaking" without Lee, who first portrayed Eric Draven and tragically died in an on-set accident while shooting the original movie.
"I finished the film for Brandon - struggling through grief, along with the hugely supportive cast & crew who all loved Brandon," Proyas wrote. "We were imbued with the strength of Brandon's spirit and his inspiration. Not only Brandon's wonderful work as an actor and a film-maker, but as a man, who's humanity had touched us."
Proyas added:
"THE CROW would not be a movie worth 'remaking' if it wasn't for Brandon Lee. If it wasn't for Brandon you may never have even heard of this poignant little underground comic. It is Brandon's movie. I believe it is a special case where Hollywood should just let it remain a testament to a man's immense talent and ultimate sacrifice - and not have others re-write that story or add to it."
In the early-to-mid '90s, Brandon Lee, son of Bruce Lee, was on track to achieving the kind of Hollywood stardom his father never had during his lifetime. However, the younger Lee was killed by strange circumstances — misfire of a prop gun — which forced Proyas and his crew to continue work without him.
Created as an underground comic book series by James O'Barr in 1989, The Crow follows a rock star named Eric Draven (Lee) who is killed by a street gang while his fiancee is beaten and raped. Afterward, Eric is resurrected by a supernatural crow, which imbues him with superpowers that he uses to pursue revenge. It's assumed the remake, tentatively titled The Crow Reborn, would follow a similar storyline and even full-on reboot Proyas's film.
Upon its release in 1994, The Crow was a hit and garnered positive reviews, with critics noting the film's visual style, badass rock soundtrack, and charismatic star with clearly unfulfilled potential. "Brandon Lee clearly demonstrates in it that he might have become an action star, had he lived," wrote the late Roger Ebert in his review.
After The Crow, three sequels followed: The Crow: City of Angels in 1996, The Crow: Salvation in 2000, and The Crow: Wicked Prayer in 2005. None of those films were directed by Proyas, all of them starred different actors, and all of them have been popularly disliked by fans. In his Facebook post, Proyas acknowledges the sequels but says that full-on rebooting a storyline and character that "Brandon gave life to at too high a cost" seems "wrong."
For some fans, it might feel like there's been talk of a Crow reboot forever — and that's because it has been forever. Almost cyclically, there is some news regarding the remake's status. A number of Hollywood talents have been previously attached or rumored to be involved, including Bradley Cooper, Luke Evans, Jack Huston, and even Tom Hiddleston. The latest actor rumored to play Eric Draven is Jason Momoa (Aquaman), whose name is on the movie's IMDB page but has yet to be confirmed.
The upcoming remake — which has been stuck in production hell since news of its first broke in 2010 — does not yet have a release date or, even, an inkling of one. And while Momoa's potential casting ignited quite a bit of excitement across the internet, clearly not everyone thinks it's a good idea.
The Crow remake does not yet have a premiere date.
And for more quality crow content, check this out.