'Crimes of Grindelwald': New Photo Puts Newt in the Sewer
It wouldn't be the first time.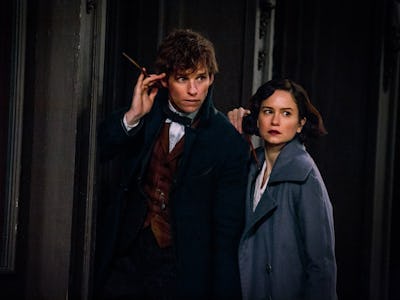 Warner Bros. Pictures
Newt Scamander once had to face an Obscurus underground in New York City and, later, the dark wizard Grindelwald in disguise. Sewers haven't been too great to him. And in the Fantastic Beasts sequel, Crimes of Grindelwald, everyone's favorite magizoologist is going underground yet again.
In a new photo for the upcoming sequel released by Entertainment Weekly on Wednesday, we can see Newt with his signature briefcase crossing a stream of what we can only assume is some kind of sewage. He has a "deer in headlights" kind of look as if he's been caught doing something he shouldn't be doing.
Considering Crimes of Grindelwald is slated to be some kind of globe-trotting adventure that visits New York, London, and Paris, we can't know for sure which global city this shot takes place in. He's almost definitely looking for some kind of magical beast. Why else would a world-renowned magizoologist go into a sewer?
Check out the photo right here:
Most sewers do look the same, but it's a safe bet that this takes place in the London sewers. In Fantastic Beasts: Cases from the Wizarding World, a mobile game tying into the Harry Potter universe, the "London sewers" serve as a location that must be investigated by the player.
Though the image provided isn't a perfect match to this movie location, it's pretty close.
The flow of sewage water is definitely more shallow, but the overall room structure is still round with large bricks. In the mobile game, Muggles complain of "wailing sounds" coming from their plumbing, and the Ministry sends some investigators to look into it.
Could Crimes of Grindelwald depict Newt taking part in a similar kind of adventure? He doesn't exactly work for the Ministry of Magic, but any kind of magical creature in a precarious circumstance would certainly be of interest to him.
We'll have to wait and see exactly which sewer Newt is wandering about in when Crimes of Grindelwald comes out next year.
Crimes of Grindelwald premieres in theaters on November 16, 2018.