'New Mutants' Is the 'Stranger Things' of Marvel's X-Men Universe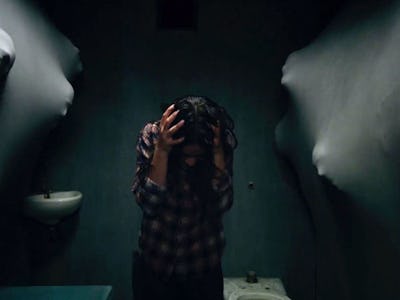 20th Century Fox
Superhero movies have been the norm for so long that the latest X-Men installment is getting creative; The New Mutants is as much a horror movie as it is a superhero story. And the latest poster for New Mutants isn't the exception to that rule, riffing off 1984's A Nightmare on Elm Street.
Similarly, Stranger Things also harnessed the nostalgic power of familiar horror images, harkening back to everything from Stephen King's Firestarter to the ever-classic Halloween for its Season 2 posters and trailers. Netflix's take on Elm Street was a little different from New Mutants's, but the shiver-down-your-back terror is still there.
The New Mutants poster depicts the movie's five main characters, Sunspot (portrayed by Henry Zaga), Mirage (Blu Hunt), Wolfsbane (Maisie Williams), Cannonball (Charlie Heaton), and Magik (Anya Taylor-Joy), screaming their way out of some sort of void. Whether or not the kids are caught up in the same Dream World that Freddy Krueger of Elm Street regularly tries to push through is up for debate. If anything, it seems like they're just trying to escape their nightmares.
Here's the New Mutants poster for comparison to the classic Elm Street scene:
The official synopsis for The New Mutants is:
Five young mutants, just discovering their abilities while held in a secret facility against their will, fight to escape their past sins and save themselves.
These mutants, based on Marvel Comics' appropriately titled team the "New Mutants," are wracked by personal doubts and tragedies. They'll be trapped in a government facility and forced to confront their newfound powers while fighting off Demon Bear, a villain from the New Mutants comics.
The Stranger Things comparison seems all the more apt when taking into account rumors that New Mutants will be a John Hughes-style Stephen King movie. So, this movie might not only be a superhero-horror mashup, but it also might carry on the 1980s nostalgia trend.
The New Mutants is expected to premiere in theaters on April 13, 2018.