Nat Geo's True-Crime Gorilla Murder Mystery Is Based on a True Story
"This is a great reminder of the difference that one person can make."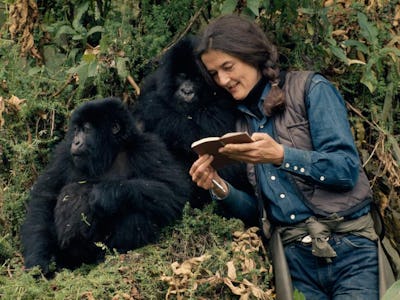 Robert Campbell/National Geographic
There would be no mountain gorillas left on the planet if it wasn't for Dian Fossey. A primatologist and conservationist who was mysteriously murdered in 1985, Fossey is credited with saving mountain gorillas from extinction. On Wednesday, 32 years after her death and on the 50th anniversary of the founding of the Dian Fossey Gorilla Fund, National Geographic will explore her history, her complicated persona, and the controversy surrounding her demise in a three-part miniseries titled Dian Fossey: Secrets in the Mist.
Fossey, who began her field studies in 1967 without prior scientific training, was a trailblazer in a field dominated by men, says Tara Stoinski, Ph.D., the chief scientist of the Dian Fossey Gorilla Fund.
"Dian Fossey's story is just so amazing — she was a pioneer, not only for conservation but for women in science," she tells Inverse. "This was a species that they thought would be extinct by the year 2000, and as a result of her going there and her conservation efforts, their numbers have in fact doubled."
Fossey's efforts, however, were not universally praised.
Before Fossey, the general public's feelings about gorillas had been established by King Kong, and conservation was far from a popular cause. Still, when she started her work, her intent was to become the first person to conduct long-term field research on gorilla society.
This proved to be a dangerous goal. While studying mountain gorillas from her Karisoke Research Center in Rwanda, she became embedded in the fight for their conservation and became the first to turn the world's attention to the need for their protection. Along the way, she also made enemies with the poachers and government officials who despised her for her interference and aggressive anti-poaching tactics, which included hiring armed guards for the gorillas and chasing away hunters in a Halloween mask.
Despite these obstacles, she changed the way the world thought about gorillas. When Fossey first set up camp in Rwanda's Volcanoes National Park, there were only 240 mountain gorillas alive. Today that number has reached 880 — nearly four times as many as there were 50 years ago. It's a testament to Fossey's efforts, but her work is far from over, says Stoinski.
"I don't think a lot of people realize there are four types of gorillas, they are all critically endangered, and these are animals that we could lose in my lifetime if we don't really make sure that the protection work that we're doing is not only maintained but increased," she says.
Currently, conversation funds are dwindling in Rwanda, putting Fossey's legacy at risk.
"The idea that conservation funding is being cut in our country is very worrisome because we know we need to increase it if we want to keep megafauna like gorillas, orangutans, and elephants on the planet," says Stoinski. "I hope people see how critical this work is, how it has made a difference, and the challenges we still face because they are, if anything, even greater than during Dian Fossey's time."
Stoinski hopes the release of Dian Fossey: Secrets in the Mist. — a true-crime mixture of archived footage, interviews, and Fossey's journal entries, read by actress Sigourney Weaver — will not only bring attention back to conservation but to inspire individuals, especially female scientists, to forge ahead with their work.
"She single-handedly reversed the trajectory for these animals," says Stoinski. "I think a lot of people feel very incapacitated sometimes — asking, 'What can I do? I'm just one person facing an onslaught of challenges.' This is a great reminder of the difference that one person can make."
Part one of Dian Fossey: Secrets in the Mist is released December 6 on the National Geographic Channel. Part two is released December 13 and part three is released December 20.