I Wanted to Watch the New "Bitch I'm Madonna" Video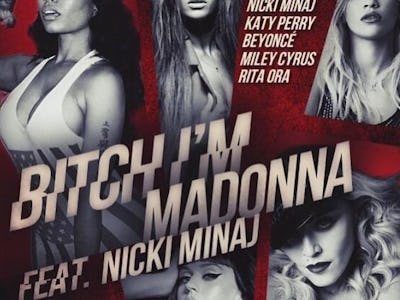 Madonna's Instagram
Jay Z seems to think he has figured out how to trick the masses into subscribing to Tidal, his overpriced, redundant streaming service. The initial draw – high quality audio – has proved to be fairly irrelevant to most users. (NPR offers a test showing just how difficult it is to discern different audio qualities.) When supposedly superior content failed to draw subscribers, Tidal was left with its exclusive content. That content, however, was mostly uninteresting (e.g., Electroma, a 2006 Daft Punk film, or the White Stripes' first television appearance). And even though Tidal could tout itself as the only streaming home to Taylor Swift's excellent 1989, that album is worth the purchase, making the monthly subscription headache even more avoidable.
Failing to offer anything worthwhile that already existed, Tidal made the savvy move toward "original" content. Since no one particular song could really be Tidal exclusive – it's too easy to rip mp3s - the site turned to music videos, which are much easier to take down when copyrights are violated. Tidal struck gold when Jay Z turned to his closest ally: Beyoncé, who's featured in the video for "Feeling Myself" from Nicki Minaj's The Pinkprint. The 30-second teaser — as of writing – has over 6.3 million views on YouTube. What's unclear is how the video has performed on Tidal.
The "Feeling Myself" video is justifiably buzzworthy, but ultimately cannot do much more than just that: create buzz. Fans crave Nicki Minaj and Beyoncé hanging out, being themselves together, but that thirst is quenched with the free teaser because the videois largely plotless. Thirty seconds of Nicki and Bey gets to the core.
Tidal is likely to run into the same situation with the release of the star-studded video for "Bitch I'm Madonna." Included on Madonna's recent album Rebel Heart, the track is produced by Diplo and Sophie, and includes a Nicki Minaj guest verse. Once again, Tidal offers a teaser, but requires a subscription for the full video. Included in the video are Beyoncé, Nicki, Katy Perry, Miley Cyrus, and Kanye West. Although the cast is very enticing, there is likely not much substance beyond their presence.
Tidal has shown now that it can garner interest, but that interest may not translate into effective branding. The videos are splashy, but are also available as leaks shortly after release. Once those leaks are snatched up, though — and they will be — the hype is gone and the FOMO fades. Tidal can grab your attention, but can't keep it.