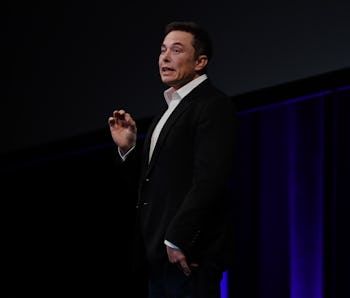 Innovation
Elon Musk's Record-Setting Battery Just Hit a New Milestone
It's a big moment in the drive toward renewables.
Getty Images / Mark Brake
Australia has just switched on the world's largest lithium-ion battery.
The Tesla-built project will provide 100 megawatts to the state of South Australia, starting from Friday, a major milestone in the drive toward renewable energy for all.
"South Australia is now leading the world in dispatchable renewable energy, delivered to homes and businesses 24/7," Jay Weatherill, the state's premier — roughly equivalent to its governor — told The Guardian.
"While others are just talking, we are delivering our energy plan, making South Australia more self-sufficient, and providing backup power and more affordable energy for South Australians this summer," Weatherill continued. "The world's largest lithium ion battery will be an important part of our energy mix, and it sends the clearest message that South Australia will be a leader in renewable energy with battery storage."
The battery is capable of providing enough power for 30,000 homes over the space of an hour. It's hoped that the capacity will enable the state to even out power supply, helping businesses and homes avoid the blackouts that plagued the state after a storm last year.
The battery is hooked up to renewable energy firm Neoen's Hornsdale wind farm near Jamestown. It forms part of a wider push totaling about 400 million U.S. dollars into renewable energy sources from the state, which also includes a solar thermal power plant at Port Augusta. The state aims to receive 50 percent of its energy from renewables by 2025.
The feat is a culmination of months of work, after CEO Elon Musk told Australian software billionaire Mike Cannon-Brookes in March that the company could get a system installed within 100 days or else it is free.
On November 23, Musk announced that he had finished the battery just 54 days after receiving permission from the Australian energy regulator.
Tesla was a bit sly with the timing. The company started building the battery before receiving regulatory clearance. Work started after the company won a bid from the South Australian government in March, which agreed to fund $113.3 million worth of battery storage facilites to the successful bidder.
"Congratulations to the Tesla crew and South Australian authorities who worked so hard to get this manufactured and installed in record time!" Musk said on his Twitter page last week.