"Elf Yourself" App Is Back With Augmented Reality Dances, Because 2017
Have yourself a virtual little Christmas.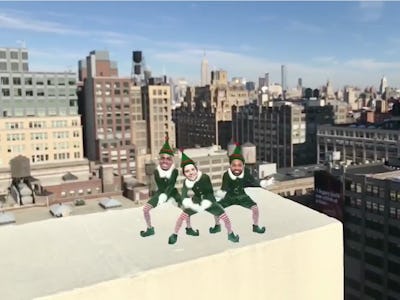 Elf Yourself
Remember Elf Yourself? #TBT when the virtual greeting card was all the rage in the mid aughts.
The feature, courtesy of retailer Office Depot, was known for transforming your friends' and family's faces into dancing holiday elves.
For 2017, the vintage meme from the past is back with a, what else, Augmented Reality (AR) features. Now your group chat of dancing elves can get lit on literally any background. So you can have them dance on a Christmas tree or the edge of the New York City skyline, as demonstrated above.
"Upload up to five photos of friends and family from Facebook or your camera . Then select a dance and the app automatically generate s your custom Elf Yourself video that you can share via Facebook , Youtube, and email ," the app instructs.
The AR function is available via in-app purchase in the Elf Yourself app, which cost $0.99 per dance.
Similar to Snapchat's Lens feature, in which your augmented Bitmoji gets silly, the results here are pretty hilarious. You can generate them by pointing your camera to the floor, where a Santa's helper version of yourself appears, ready to bust some moves.
As with most things 2017, no app or product is safe from the AR craze. Just seven years ago, Elf Yourself was known as a holiday activity to partake in around the office, in which you grab and paste photos of your co-workers to make the silly greeting card.
You call: Keep up with the times by upgrading to the AR dances or get left behind in sad, flat 2D.