The U.S. Government Just Launched a Puppy Cam and We're Not Mad About It
Everyone report to the labrador laboratory!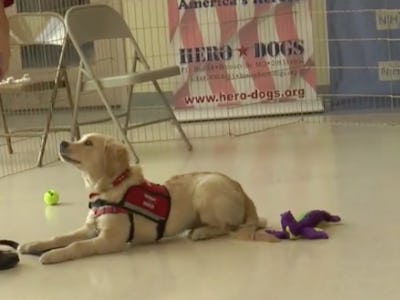 NIH
The National Institutes of Health inexplicably went live on Thursday with a puppy cam, and it's incredibly lovely. In the live cam, a group of trainers can be seen in a large room, training adorable pups in skills including touch and retrieval.
According to the NIH, these dogs are being trained to help people with physical disabilities, specifically military veterans. In addition to helping humans move around, retrieve objects, and navigate, the trained pups may also serve as therapy dogs for the emotionally distressed. While its mechanisms still aren't entirely clear, puppy therapy has been shown to have noticeable effects in stress relief in many studies. Bernie Sanders, for one, famously attended a puppy stress relief session during his run for the presidency in 2016.
If you watch the Puppy Cam for long enough, you'll see a variety of young pups learning new tricks. In the touch task, for example, a trainer gets the dog to push a touch-activated light and rewards the dog when it does.
"In the future they will be able to use this skill to open doors and ring doorbells, etc." said the NIH live cast commenter.
Next, the trainers dropped keys for the dogs to pick up.
These training activities are going on whether we watch them or not, but on Thursday the NIH intentionally brought the puppy cam to the public in order to help people relieve stress.
In addition to filming them to soothe viewers at home, the NIH actually uses the puppies to help manage stress for patients receiving treatment at the NIH Clinical Center. Studies have shown that animals have a remarkable effect on reducing stress levels, though it's still not entirely clear why. In an interview with the NIH website Medline in 2015, Holly Parker, a recreational therapist at the NIH Clinical Center in the Rehabilitation Medicine Department summed up the existing evidence, saying "Therapy dogs make a powerful connection with patients, giving them unconditional love. The emotional and physical comfort they provide is unlike any other."
There's no question that we could all use a little puppy-induced relief around the holidays. If you're feeling stressed or simply want to see how quickly these doggos pick up new skills, check out the NIH Periscope page to see for yourself.