Investing Could Be the Hot New Social Networking, According to StockTwits
A millennial feed of financial activity.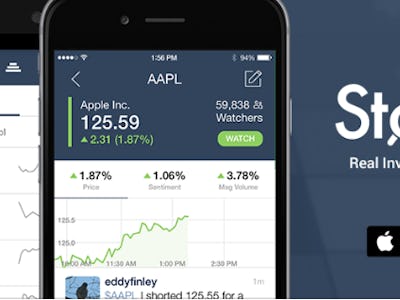 StockTwits
The largest online social platform for investors and traders is about to become a full-fledged social network.
What began as a forum built on Twitter back in 2008, StockTwits wants to go even further with a "Discover" feature. Users can now find ideas and insight with the help of stock lists, curated content and earnings calendars.
The redesigned Web and mobile apps will be available for StockTwits' million-plus community members beginning today.
StockTwits Chief Operating Officer Justin Paterno tells Inverse that the platform's move toward a more aggressive social strategy makes sense, given its focus is on younger investors. The average StockTwits user is between the ages 25 and 35, making them social natives who are "comfortable sharing" their investing activities.
StockTwits allows you to sync your profile with your brokerage account, whether it's with startups like Robinhood or traditional firms like Fidelity.
"It's the easiest way to manage your portfolio and engage with others," Paterno says. He says the discover feature is especially important because "it take the social activity that happens in the community and makes it more accessible to investors."
One of the key new features will be the "lists" of stocks, which will revolve around themes and interests. StockTwits is also providing highlights of curated content being shared on the site everyday. So you'll be automatically notified when bitcoin inevitably breaks another record.
StockTwits co-founder and CEO Ian Rosen says, "The new features are in line with our 'social-first' strategy, which has earned us a loyal base of users who spend as much time on StockTwits as others do on Facebook."
Turning investing into a major social activity makes sense in 2017. With interest in financial tech tech and cryptocurrency rapidly increasing, "Money activity is changing," Paterno says.
Indeed, social norms regarding finance have shifted drastically in the past decade or so. For example: the idea of Venmo's social feed would have sounded crazy 10 years ago, Paterno says, but today has become part of internet culture. StockTwits is betting that they can repeat that trick with their platform.