Top Bitcoin Exchange Site Keeps Crashing as Bitcoin Surge Reaches $11,000
Coinbase struggled during the surge.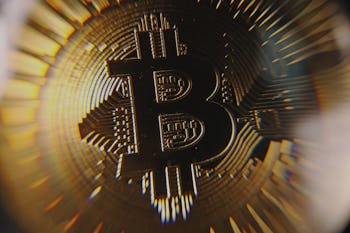 Getty Images / Dan Kitwood
Bitcoin surged to new highs of $11,000 on Wednesday, just 24 hours after reaching its previous record-breaking high of $10,000. During the surge, major exchange site Coinbase struggled with performance issues and the Nasdaq stock exchange unveiled plans to support the currency in a much bigger way.
During Wednesday trading, Bitcoin moved 15 percent compared with the previous day, part of an overall jump over the past year of more than 1,000 percent. The cryptocurrency hit $10,000 just the day before.
Coinbase, which has over 10 million users and over $50 billion in transactions to its name, struggled to cope with performance issues during the record high.
"Yes, overnight, Coinbase experienced all-time high traffic," Dave Farmer, director of communications and operations for Coinbase, tells Inverse. "While some users may have suffered from slower performance, much of the site was unaffected. All issues should be fully resolved by now."
The website gave a summary of the issues on its support page:
Experts, worried about the possibility of a bubble, are expressing caution around these new heights.
"I would be pretty cautionary about it. I think that it's not a stable store of value," William Dudley, the president and chief executive of the Federal Reserve Bank of New York, said at an event in New Jersey. "I would be, at this point, pretty sceptical of bitcoin."
Nonetheless, investors are piling in. Blockchain.info told Reuters that it had over 100,000 signups on Tuesday, a new record, reaching a total of 19 million.
It's not just investors getting on board. Nasdaq announced during the record surge that it plans to launch Bitcoin futures in the first half of 2018, allowing buyers to speculate on the future movements and make money. The announcement could lead to a legitimization of the cryptocurrency in the eyes of financial services, for better and worse.
"It is a signal to the FinTech community that traditional financial services firms are ready to work with them and the regulators to address how these new financial products can be traded in a manner that is compliant with the securities laws and the commodities laws," Rick Levin, chair of the finTech and regulation team at law firm Polsinelli, tells Inverse in an email. "This may be disconcerting to some members of the crypto community that abhor any type of collegial relationship with traditional financial services firms and that have no regard for compliance with the laws."
Update 11/30 3 a.m. Eastern: Updated with comments from Coinbase.