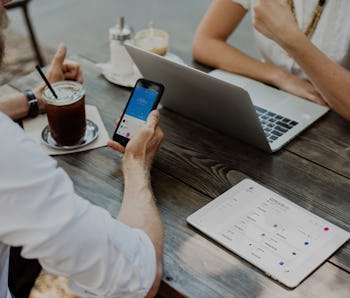 Innovation
Revolut Passes Million Users, Here's What it Means for Alternative Banking
Consumer banking may eventually go all-digital.
Revolut
Virtual banking may become the new norm.
UK-based digital bank Revolut just hit a million customers, just as it's preparing to hit U.S. soil at the beginning of 2018.
But then, the whole point of Revolut is it won't hit American soil at all, at least not literally. There are no branches and no physical holdings. All banking happens online and its assets are built on the blockchain. The result, Revolut tells Inverse, is a banking experience fundamentally different from the old, Wall Street-backed banks.
Unlike PayPal and Square, Revolut isn't yet on many people's radars in North America. However, the startup has been able to amass major success across Europe within two years without much marketing efforts, thanks to word of mouth.
Part of Revolut's success is down to its ability to offer all-in-one banking services. These include features like savings, person-to-person payments, no fees, and limit on spending — on top of standard ones like direct deposit, Brad West, Revolut's Head of Global Brand and Communications, tells Inverse.
"We don't want to be another corporate bank that views customers as numbers on a spreadsheet," West says. "We speak to the customer directly with light language."
Afterall, Revolut's customer base is diverse, West says. It includes international tourists, business travelers, and of course students. Basically, tech-savvy people who want a bank that works for them, not against them. "Bringing them a one-stop banking option is a big opportunity," West says.
"We want to come in and give back to the consumer what greedy big banks have taken away over the years."
There's also a growing belief that where people bank their money can be a political act. Consider the recent grassroots Defund DAPL movement, in which activists called for both individuals and business to divest from banks like Wells Fargo and Bank of America that are heavy investors in the Dakota Access Pipeline.
That movement has reported $85 million in divestment, and that money has to go somewhere. A virtual bank like Revolut, which is free of those environmentally destructive investments, is an intriguing option.
"We're don't get political, but we're absolutely anti-big bank," West says. However, Revolut sees itself as having a lot to offer U.S. millennial generation's anti-corporate idealism.
Ahead of its U.S. launch, the company is also considering adding cryptocurrency buy and exchange option within its app, where users can purchase Bitcoin "at the lowest possible rate."