'Last Jedi' Star Daisy Ridley Is Being Charming AF Right Now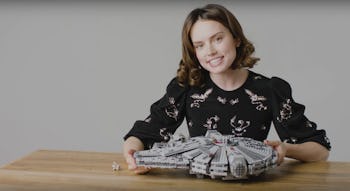 YouTube.com/ElleUKTV
The greatest marketing tool for Star Wars: The Last Jedi at Disney's disposal is Daisy Ridley. As of Tuesday, there is an onslaught of the British actress as the endlessly charming Ridley engages in the national press tour for The Last Jedi. From building a Lego Millennium Falcon for Elle and hitting up all the morning talk shows, Rey is like the Force itself: Everywhere you look.
Naturally, Ridley couldn't reveal all the cool things in store for The Last Jedi. The question of Rey's parentage came up quite a bit in her talk show appearances, as did the subject of newly-engaged Prince Harry, who visited the set of The Last Jedi with Prince William (the two reportedly have a cameo appearance in the movie as Stormtroopers). On ABC's Live with Kelly and Ryan, Ridley said: "From my point of view, Rey is on more of an emotional journey, than a physical one. It's emotional on the island. She gets to ask questions about herself and the world around her."
While Ryan Seacrest kept pressing it on, Ridley added: "She's trying to figure out where she came from, in terms of parentage and heritage wherever that may be."
In her appearance on Good Morning America, Ridley got philosophical in how she describes the heroine discovering things that may be unpleasant about herself. "The lines are less clear to good and bad," she says, "Rey is trying to find out more about herself and the universe, and those questions don't fall entirely to the good, nor to do they fall entirely to the bad. She's trying to do her own sort of personal growth. I think what's amazing is that at the end of the film, however that does end, it's more rich. if it's always good, the outcome isn't always as important as it might be."
Then, for Elle, Ridley builds a Lego Millennium Falcon — which she completes in five minutes! — during her interview. In it, she reveals that her father has not changed allegiances and is still a massive Star Trek fan. Go figure.
Watch Ridley's interviews below. First, Live with Kelly and Ryan:
On Good Morning America:
And finally, on Elle:
Star Wars: The Last Jedi will be released on December 15.