Airbnb Just Added Its Most Asked For Feature, and Here's How It Works
No more begging friends to pay back for that Vegas trip.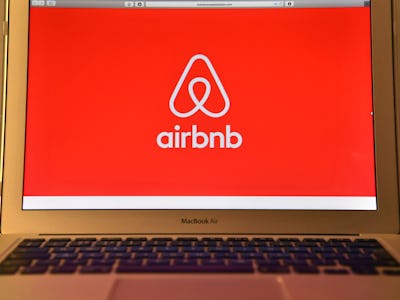 Getty Images / Carl Court
What began with a thunderous response to a question on Twitter almost a year ago is now a full-fledged Airbnb feature.
Last December, the rental platform's CEO Brian Chesky posed a question to his followers: "If @Airbnb could launch anything in 2017, what would it be?"
Turns out, people would really like to split their Airbnb bill without the help of a payments app.
"One of the top requests was group payments. We heard consumers loud and clear, and with the launch of split payments, we're delivering on that promise," the startup announced. "We've tested this in recent months with over 80,000 groups successfully using the feature from all over the world in nearly 175 countries, using over 44 different currencies."
The way it works is once you book an Airbnb, you have the option to request payment from the guests joining you on the trip, who have 72 hours to pay what they owe. Possibly due to logistic reasons — the feature only works on "qualifying bookings, like ones booked at least 10 days before arriving.
The company hopes the money-splitting tool is helpful, especially as Airbnb says the platform's users have reported frustrations with paying for their group vacation accommodations.
"For those that have traveled with a group, two-fifths (38%) have experienced not receiving all the money owed from a group trip," and almost half of them have lost $1,000 or more in group trip repayments. While, yeah, that kind of implies there are a lot of bad friends out there, keep in mind the nature of group trips. A lot of people aren't comfortable hassling each other for repayment, even as one person has to handle paying for the accommodation upfront.
The new feature will allow up to 16 — yes, 16! — people to split the bill for their Airbnb stay. While a trip requiring a 16-way split in costs may sound like a nightmare to some, the option will no doubt be useful for those looking to go on large group trips, like a bachelorette party or spring break.
While Airbnb may be late to the payment-split game — companies like Uber and Lyft introduced the feature years ago — being able to split a large bill like a rental apartment in 2017 makes sense. Given the current growth of the share travel economy, per Airbnb's projected figures, friends and even families will likely use the tool to make to make group travel more convenient.
"In using the split payments tool, groups will have even more listings to choose from that often fall outside of what an organizer can afford to reserve if they had to front the total cost," Airbnb says.