Plan to Install Solar Power at Chernobyl Is Either Brilliant or Evil Genius
Whatever the case, it's happening.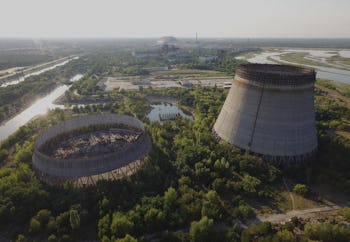 Getty Images / Sean Gallup
Thirty-one years after the nuclear disaster at Chernobyl, engineers are hoping to turn the radioactive exclusion zone into a hotspot for renewable energy.
Bloomberg reports that Ukrainian engineering firm Rodina Energy Group Ltd. and German clean energy firm Enerparc AG are leading the effort to install solar panels spanning 1,000 miles within the Chernobyl zone. The project — which will be one megawatt in size — is expected to be green-lit next month.
"Bit by bit we want to optimize the Chernobyl zone," Evgeny Variagin, chief executive officer of Rodina, tells Bloomberg. "It shouldn't be a black hole in the middle of Ukraine. Our project is 100 meters from the reactor."
The Chernobyl Exclusion Zone is about 1,000 square miles that literally can't be put to just about any other use. Some scientists say radiation will pollute the region around Chernobyl for around 180 to 320 years. There aren't exactly a lot of options for business or commerce.
But using the region for renewable energy could be a great way to turn the abandoned space into something good. After all, solar energy can't get contaminated by background radiation, and there is a whole electricity-carrying grid around Chernobyl that has gone unused for the past three decades. Why not put it to use?
Though this first solar park will cost about a million euros ($1.2 million) to build , Rodina and Enerparc hope to invest 100 million euros ($119 million) to create upwards of 99 more megawatts of solar in the region. According to Bloomberg, the Ukranian government is "offering cheap land" to attract more clean energy investors.
In time, Chernobyl could be producing lots of clean energy. Who would've thought that sentence could ever be a reality?
The island of Ta'u is now completely solar powered thanks to Tesla. Check out this video to find out more.