Immerse Yourself in Cybersecurity With These Tools and eLearning Bundles
by Inverse Loot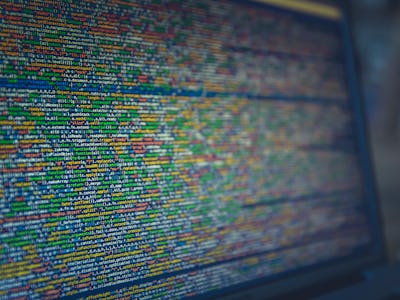 Unsplash / Markus Spiske
Nowadays, news of data breaches and high-profile cyber attacks are almost a daily occurrence. In fact, according to Gemalto's Breach Level Index, there are a staggering 5,153,266 data records that get lost or stolen every day. So now is the best time to invest in cutting-edge cybersecurity tools. We've rounded up some of the best learning bundles and software that will provide maximum cyber protection and teach you everything you need to know about online security. Read on!
When it comes to cybersecurity, you can never be too protected. You have to be equipped with various tools and programs to be guaranteed of fool-proof online encryption. The Cyber Security Bundle offers six different data security software that will keep prying eyes away from your sensitive data. Featuring the most-trusted cybersecurity programs like Panda Internet Security, CloudApp Pro, and Sticky Password, this bundle is packed with everything you need to safeguard your digital self.
The ultimate cyber security bundle has an overall value of $572, but you can get it now for the price you pick.
When someone like Mark Zuckerberg covers his webcams, you just know how much a tiny camera can expose and endanger you. Sticking a post-it just isn't enough, you have to be extra cautious and find ways to keep your computer extremely secure. Camera Guard 2 Pro tracks and blocks all programs that try to access your webcam, preventing any unwanted access by hackers or government officials. It also features Deep Detective™ technology, which adds an extra layer of security to critical system areas of your device, shielding it against ransomware attacks.
Protect yourself from prying eyes forever with a lifetime Camera Guard 2 Pro license, now only $14.99, 90 percent off its usual price of $149.99. Enter CYBER40 at checkout for an ADDITIONAL 40 percent off this price!
There's no better time to be well-versed in cybersecurity than now. After a slew of high profile cyber attacks, companies are becoming more and more concerned about protecting their networks and online systems. The Ethical Hacking A to Z Bundle offers over 45 hours of immersive content to help you break into the world of whitehat hacking. This instructional kit will teach you the different types of web attacks, identify network vulnerabilities and security issues, and more!
Learn the A to Z of whitehat hacking for only $39, a whopping 96 percent off its original price of $1,273 and enter CYBER40 at checkout for an additional 40 percent off this price!
We now live in an era where the internet has become a necessity. With that being said, it's imperative that we take precautions for protecting ourselves and our personal data online. PureVPN will give you just the security you need. It has 550+ servers in 141 countries making for a broader reach, and it can protect up to 5 devices at once at top speeds.
This extremely reliable VPN typically costs $597.00, but you can get a lifetime subscription now for only $59.99.
If you want to get ahead in the corporate world, you would need to work extra hard and secure new skills. The Ultimate CompTIA+ Lifetime Certification Bundle will make you an expert in areas like computer security, cloud software, Linux, and more. As the job market is always on the hunt for skilled IT professionals, this bundle will put you one step ahead of the competition.
The Ultimate CompTIA+ bundle usually goes for $2,530.72, but you can get it now for only $49, 98 percent off its original cost. Enter CYBER40 at checkout for an additional 40 percent off this price!
Inverse may receive a portion of sales from the post above, which was created independently from Inverse's editorial and advertising team.