Mark Hamill Fights 'Star Wars' Spoilers While J.J. Abrams Auctions Them Off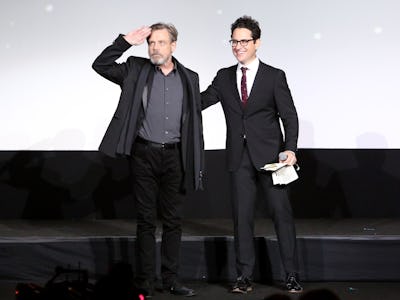 Getty Images / Jesse Grant
Star Wars spoilers might be worth their weight in porgs, but that's not stopping J.J. Abrams, director of the upcoming Star Wars: Episode IX, from giving things away early — for charity. In direct (but probably not purposeful) opposition to Abrams's charitable move is Luke Skywalker actor Mark Hamill, who's begging Star Wars fans to keep their mouths closed about Star Wars: The Last Jedi spoilers.
Hamill has been counting down the "#WaitForVIII" for months, taking to Twitter on the regular to crack dad-level jokes about the future of the Star Wars franchise and to tease fans about Luke potentially heading to the Dark side.
On Friday, though, Hamill struck a serious tone. With Star Wars: The Last Jedi just a few weeks away, Hamill's giving into spoiler culture and asking fans to keep spoilers to themselves.
"The #WaitForVIII is nearly over!" Hamill wrote. "Let me take this opportunity to personally ask you to keep all that happens in #TheLastJedi a secret for as long as is humanly possible. Thanking you ALL in advance… #LooseLipsSinkStarships."
Meanwhile, Abrams, who was brought on in September to direct Episode IX after Colin Trevorrow parted with Lucasfilm, recently appeared at HBO's Night of Too Many Stars event to do the exact opposite.
Abrams announced at the event that he would be auctioning off Episode IX spoilers to raise money for the NEXT for Autism non-profit group.
"Tonight, I will whisper to one winning bidder the plot to Star Wars: Episode IX," Abrams said.
And he did. For $10,000, "Carlos Danger" won the right to have Abrams whisper the plot to Episode IX in his ear — and then Carlos was immediately forced to sign a non-disclosure agreement while Stormtroopers hovered over him. There's no telling what kind of trouble Carlos would get into if he divulged to the world what Abrams told him, but it's probably safe to say that Hamill is happy that Carlos legally can't sink any starships.
Star Wars: The Last Jedi premieres in theaters on December 15.