Turns Out 'Jurassic World' Surpassed 'The Avengers'
The biggest opening in history just got bigger.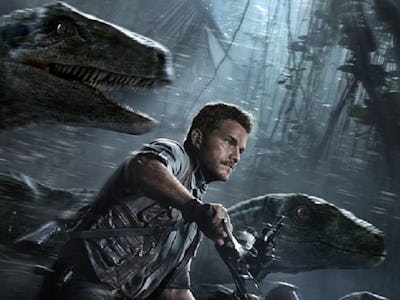 www.jurassicworldmovie.com
Jurassic World just keeps annihilating box office records, and just when we thought we'd counted them all. 
Despite initially tracking in just below The Avengers for the biggest domestic movie opening in history, someone actually got around to tallying the cash. The dinos beat the superheroes in the end.
Jurassic World's domestic tally for the weekend came to a whopping $208.8 million, surpassing The Avengers' previous record by $4.2 million, to set a U.S. record. Count that with JW's other obliteration of Harry Potter and the Deathly Hallows Part 2's international weekend gross record, and the movie becomes the biggest box office opening in history. Cue the big music swells and the epic dinosaur roars.
According to Variety, besides shattering those three ridiculously huge records, director Colin Trevorrow's four-quel continuation of Steven Spielberg's original movie has also already notched several other box office records in one weekend.
Those include:
Biggest domestic June debut (Previous record: Man of Steel with $116.6 million)
Biggest PG-13 rated film debut (Previous record:The Avengers with $207.4)
Fastest film to $200 million (Previous record:The Avengers)
Universal's highest grossing international weekend (Previous record: Furious 7 with $250.4 million)
Universal's highest grossing North American weekend (Previous record: "Furious 7″ with $147.2 million)
Imax record international weekend of $23.5 million (Previous record: Transformers: Age of Extinction with $16.7 million)
IMAX record domestic weekend of $20.6 million (Previous record: The Dark Knight Rises with $19 million)
Premium large-format record of $16.2 million (Previous record:Avengers: Age of Ultron with $13.1 million)
Biggest debut for a Chris Pratt film (Previous record: Guardians of the Galaxy with $94.3 million)
The next big record the Jurassic dinos are looking to devour is fastest film to $1 billion, a record previously held by another recent Universal franchise, Furious 7. Considering Jurassic World already made half a billion bucks and the fact that its next competition is the family-friendly Pixar movie Inside Out, which probably won't steal much of its audience anyway, we have no qualms about it getting to an impressive ten figures within at least three weeks of release.