Harley Quinn's New Adult Animated Series Includes Main Squeeze Poison Ivy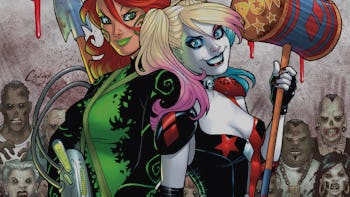 DC Comics
Mistah J may be Batman's greatest adversary, but Harley Quinn stole the spotlight in 2016's Suicide Squad. Now, Harley's getting her own animated series by popular demand and, of course, she won't be alone; life gets too boring that way.
As reported by Deadline on Monday, Harley will be getting her own adult action-comedy animated series, Harley Quinn, as part of DC's upcoming streaming platform. Harley will be joined by none other than her best friend and once-canon girlfriend Poison Ivy, as well as a "whole cast of heroes and villains, old and new, from the DC Universe."
Harley Quinn is one of three original DC series expected to premiere on DC's platform, which will also feature a live-action Titans series from Greg Berlanti and Akiva Goldsman as well as a revival of the hit animated series Young Justice.
Margot Robbie, who portrayed Harley in Suicide Squad, is at the top of DC's wishlist to voice Harley in the animated series — emphasis on wishlist. No decisions have been made in casting for the series.
Robbie will portray the live-action Harley in her own upcoming spin-off film, which has been rumored to involve Batgirl and the Birds of Prey. Other sources have said the spin-off is a Gotham City Sirens film that would drop Harley into a team up with Poison Ivy and Catwoman. In DC's Gotham City Sirens comics, Harley abandons her abusive relationship with the Joker once and for all and subsequently fall for Ivy. It's a beautiful, supportive love story, and a wildly different one from the toxic relationship Harley has fallen into time and time again with the Joker.
Since the Harley Quinn series will officially include Poison Ivy, it would be fair to guess that a romantic relationship might be explored. And, even if they're just friends, then at least Harley will have a positive onscreen relationship of some sort.
Harley Quinn does not yet have a premiere date.
If you liked this article, check out this video on everything you need to know about Harley Quinn.