'Pokémon GO' Reveals Its Most Farfetched Global Event Yet
Yes, there are Farfetch'd involved.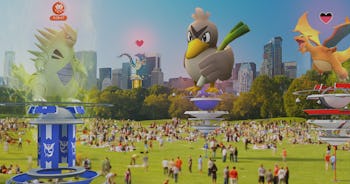 'Pokémon GO' Blog
Mobile game developer Niantic is trying something a little new with Pokémon GO by introducing what's called the "first-ever Global Catch Challenge" alongside "Pokémon GO Travel." If players can live up to the challenge, then they'll have the great pleasure of catching themselves a Farfetch'd, regardless of what region of the world they inhabit.
Announced on Niantic's official Pokémon GO Blog, "Pokémon GO Travel" is a video series following the adventures of several players as they explore Japan and lead the world in a massive global mission to catch a ton of Pokémon.
Starting Monday, November 20, Pokémon trainers from around the world have six days to catch a total of 3 billion Pokémon — yes, that's 3 billion — in Pokémon GO. Doing so will activate three tiers of rewards culminating in the sassy leek-wielding bird Pokémon Farfetch'd being unleashed upon the world — but only for 48 hours. Previously, the bird was only available in East Asian countries, places that will get access to Kanghaskan should the world reach the quota.
In the main Pokémon games available for the 3DS family of Nintendo systems — including the newly released Pokémon Ultra Sun and Ultra Moon — similar Global Missions don't see a lot of success, but tying Pokémon GO Travel to players with large social followings could prove a successful way to boost the activity.
Niantic is encouraging everyone to share their travels via social media under #PokemonGOtravel over the next week, with the challenge wrapping up at an IRL Pokémon GO Safari Zone event in Tottori, Japan, on November 26.
Farfetch'd makes for an interesting choice as the "big reward" here. It's typically a pretty terrible Pokémon to use on account of its poor moveset and even worse stats in the main games, but while it lacks competitive edge, it more than makes up for by being one of the most hilarious Pokémon in the anime.
But considering tons of players around the world previously had to travel to East Asia just to catch a Farfetch'd, maybe they'll be a bit more inspired if only for the sake of getting one step closer to completing their Pokédex.
Pokémon GO Travel and the Global Catch Challenge runs from November 20 to November 26, 2017.