11 Amazon Buys That Space Nerds Will Love
All of these passed our foolproof BS detector.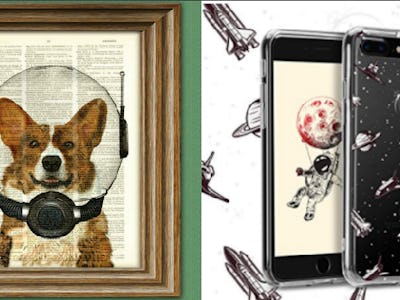 'Tis the season to be flooded with infinite shopping lists about what you should and shouldn't buy. For space fanatics, there are so many options out there — and frankly, a lot of it is pretty corny. That's why we did the painstaking work of weeding out the junk and made this list of space-themed things to buy.
Enjoy, Earthlings!
11. "Lieutenant Waffles of the Space Patrol" Print
CollageOrama revamps old books by printing adorable illustrations on them, including space faring corgis and astrokitties. I mean, really, who doesn't want an astronaut dog named Lieutenant Waffles adorning their wall? 12/10, would follow into the final frontier. ($9.99, Amazon)
10. Astronaut in Outer Space Hoodie
Sure, winter is coming, but nothing's colder than the unfeeling vacuum of space. This fashionable hoodie will shield you from chilliness, but nothing can insulate you from being totally alone in the universe. Happy winter, everyone! ($19.99 - $26.99, Amazon
9. Heat Changing Constellation Mug by The Unemployed Philosophers Guild
This ceramic mug makes 11 constellations appear when you pour hot liquid in it, so it's perfect for the space nerd-meets-caffeine enthusiast in your life. ($15.95, Amazon)
8. "I Need My Space" Enamel Pin
The perfect way for space lovers to adorn a jacket or backpack. And just look at the solar system in that saucer! Campoco, the company that makes this pin, also makes some incredible astronaut cat pins that I'm suddenly obsessed with. Now, you might be too. ($9.20, Amazon)
7. Endurance: A Year in Space, a Lifetime of Discovery, by Scott Kelly
NASA astronaut Scott Kelly penned this moving memoir after spending a year in the final frontier. This book is the perfect gift for the aspiring astronaut in your life, or just someone who wants to be inspired by a national treasure. ($14.99 on Kindle, $17.95 hardcover, Amazon)
6. Astronaut iPhone 7 Plus/iPhone 8 Plus Soft Phone Case
Good phone cases are hard to come by, especially if you've got one of the bigger iPhones. But this soft, space-themed case is a sweet, minimalist way to jazz up your precious clunk of metal. ($7.95, Amazon)
5. Celestron 21035 70mm Travel Scope
For amateur stargazers and season pros alike, it's tough to beat the deal this Celestron telescope offers. Plus, it comes with a backpack, so it's easy to carry around! ($59.99, Amazon)
4. Constellations Map Wall Tapestry
This 60 x 40 inch tapestry is perfect for a bedroom or private library if you've got a Bond Villain lair. It's also a great alternative to the Animal House "College" poster for those looking to decorate their dorm. ($29.99, Amazon)
3. NASA Insignia Embroidered Washed Two Tone Cap
I mean, it's classic for a reason, right? ($10.53, Amazon)
2. Funko POP: Alien
This little xenomorph figurine is the perfect desk companion for bad days, writer's block, and more. ($8.57, Amazon)
1. Chasing Space: An Astronaut's Story of Grit, Grace, and Second Chances, by Leland Melvin
In his riveting memoir, former NASA astronaut Leland Melvin explores his incredible career in football, space, and beyond. Plus, LOOK AT THOSE PUPPIES. ($12.99, Kindle. $14.99, Hardcover, Amazon)
Please note these links have been autonomously chosen by our editorial team, and Inverse may receive a portion of the purchase.
If you liked this article, check out this video of an expert guide to wormhole travel in Guardians of the Galaxy Vol. 2, according to a theoretical physicist.