The Nude App is Back After "Bizarre" Apple iTunes Fight
Apple's explanation was its ambiguous one.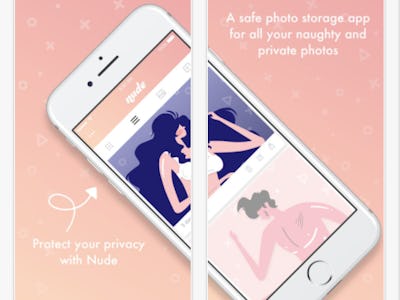 Nude App/Apple Store
Justice for nude pics everywhere.
After going dark on the App Store, the Nude app's team has finally been able to get it back on the iOS app marketplace.
Nude co-founder YC Chen tells Inverse that while "no proper explanation was given" by Apple's representatives, the app is now available for download again.
The startup says the explanation Apple eventually gave for kicking Nude off the App Store was that "the App Store Review Guidelines are a living document, which can result in new rules at any time."
Chen says he and his team worked rigorously in the hopes of making Nude compliant with the App Store's rules, but their experience dealing with Apple support has been "incredibly frustrating and a little bizarre." Apple seemed to give different explanations for pulling the app from its store.
"We spent countless hours and nights designing and building a pragmatic product that we wanted millions to enjoy, only to be taken down from the App Store on our third week after launching without a proper explanation," Chen says.
Chen says that despite a positive launch, Apple warned the Nude team that "Locking Photos is no longer a compliant use case for an app." However, the feature is famously used on apps like Snapchat and KeepSafe without an issue on the App Store.
Eventually, it seems the truth came out: Chen was told the app can continue to exist on Apple's app store by losing the "Sexiest App Ever" branding, hence its newly renamed "Nude App" moniker.
According to the company, Nude has a fairly high user retention rate of 60 percent against the industry average of 20 percent. This hyper growth helped the app gain attention from both the public and media since its launch earlier this month.
The Nude app uses iOS 11's new CoreML technology, which allows developers to use machine learning to identify image types and file them accordingly. Because the photos don't need to be sent to an outside server — aka the cloud — to get identified, CoreML IDs the image on your device. It's also the technology behind the "brassiere" search term controversey, in which CoreML scans your images to show ones of you wearing a bra.
Nude is also set to release an Android version in the coming months, which will use Google's Tensor Flow Lite capabilities.
With all the exciting AI-integrated plans Nude has in stores, its founders are counting on a seamless liaison with Apple to grow the service.
"We hope in the future that Apple can communicate more candidly as oppose to being forcibly abrupt in their explanation," Chen says.