NASA Astronaut's Stolen Watch Returned After 30-Year Hunt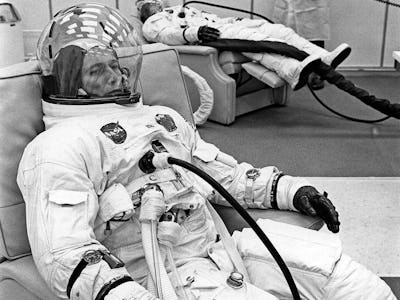 NASA via collectSPACE
The 30-year search for an Apollo astronaut's watch is finally over. CollectSPACE reports that former NASA astronaut Donn F. Eisele's NASA-issued Omega Speedmaster has been returned to the Smithsonian's National Air and Space Museum after it was stolen in Ecuador and assumed lost. Inverse caught up with one of the historians who helped return the watch to its rightful home.
Back in 1968, Eisele was given an Omega Speedmaster for his mission on board NASA's Apollo 7, where he served as command module pilot. Ten years before Eisele's death in 1987, the watch was moved to the Smithsonian, then put on loan to the Instituto Geográfico Militar in Quito, Ecuador. But in 1989, the watch was mysteriously stolen from its display without a trace.
No one had seen the watch for 28 years, until earlier this year when it was supposedly spotted at a watch show in Florida — unfortunately, details on the sighting are thin. But earlier this fall, CollectSPACE founder and space historian Robert Pearlman started receiving e-mails about the watch, and the hunt was back on.
"In late September, I received an email through collectSPACE from someone saying he had been offered a vintage Omega Speedmaster chronograph with engraved numbers that he thought was an astronaut's watch," Pearlman tells Inverse. "He wanted to know if the numbers could be used to identify on what mission the watch had flown and how he could know it was authentic. Soon thereafter, he shared photos of the timepiece. Having written about the NASA Speedmasters in the past, I immediately recognized it as Donn Eisele's stolen Apollo 7 watch and set out to contact the proper authorities."
Pearlman says that around the same time, he found out another space history enthusiast named Garron DuPree had also been communicating with his source. Together, Pearlman and DuPree worked with the Smithsonian Office of Inspector General (OIG) and FBI to get the Speedmaster back in the hands of the museum.
Now that the watch has been recovered, Smithsonian will figure out where and when to display it. Sadly, the museum is still missing about five Speedmasters that were also stolen while on loan to various museums over the years. Still, this is a great step in recovering those other watches — and a testament to the indefatigable determination of nerds.
"Next October marks the 50th anniversary of the Apollo 7 mission, which put the U.S. on a path to land humans on the moon," Pearlman explains. "As Neil Armstrong once said of the flight, 'All of us in the flights that followed were dependent on the Apollo 7 crew doing their job.' Returning Eisele's Omega Speedmaster chronograph to the Smithsonian ensures it will be available to future generations to appreciate for many years and many anniversaries to come."
h/t collectSPACE