'Wonder Woman' Star Addresses Rumor That She Wouldn't Appear in the Sequel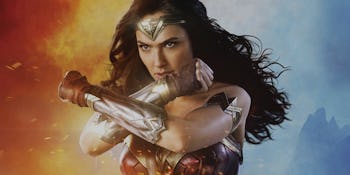 Warner Bros.
The entertainment industry is dealing with a long-overdue housecleaning, as alleged serial sexual predators are finally ousted from positions of power. Over the weekend, news broke that Wonder Woman star Gal Gadot had reportedly stated that she would not return for the sequel if one of those men, longtime Hollywood producer Brett Ratner, a producer on the first film, was involved. During a Wednesday morning appearance on Today, Gadot clarified the situation.
On Saturday, a Page Six article claimed that Gadot was making a stand to ensure that Ratner, who has been accused of sexual assault or harassment by six women, wouldn't be involved with the sequel. Warner Bros., the studio behind Wonder Woman, cut ties with Ratner and his production company, RatPac Entertainment, after the allegations, came to light. A large financing deal with RatPac and Dune Entertainment, which helped fund Justice League, is still in effect, but set to expire before Wonder Woman 2 would've seen any money from it anyway.
So, Ratner's out, but Gadot confirmed that she didn't want him involved in the sequel. However, she wasn't alone in putting her foot down.
"At the end of the day, a lot has been written about the way I feel, and everyone knows the way I feel, because I'm not hiding anything," Gadot said on Today.
She continued:
The truth is, there's so many people involved in making this movie. It's not just me—and they all echoed the same sentiments. Everyone knew what was the right thing to do. But there was nothing for me to actually come and say because it was already done before this article came out.
Check out the appearance below, starting at the 3:42 mark.
The Wonder Woman sequel is set to premiere in theaters on December 13, 2019.
If you liked this article, check out this video where the stars of Professor Marston and the Wonder Woman talk about how psychology helped create Wonder Woman.