Tesla Claims Racism Lawsuit Is 'Hotbed of Misinformation'
Elon Musk reportedly told employees to be "thick-skinned."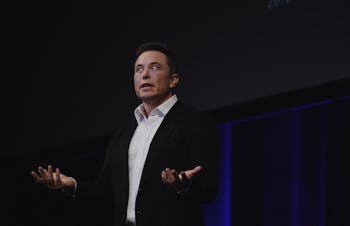 Getty Images / Mark Brake
Elon Musk and Tesla have responded to reports that Musk told Black Tesla factory employees that they should be "thick-skinned" and "accept" a co-worker's apology for racial harassment. A class-action lawsuit on Monday from former employee Marcus Vaughn alleged a pattern of racial discrimination at the company's Fremont, California facility, stating that it operates under "pre-civil rights era race discrimination."
Tesla's response to the lawsuit, detailed in a blog post late Tuesday, was quickly criticized, after it claimed that the alternative to accepting an apology "would be that a single careless comment should ruin a person's life and career, even if they truly regret their action and do their best to make amends."
Richard Lawler, senior news editor for Engadget, told Musk on Twitter that telling victims to be "thick-skinned" is "labor they did not ask for."
"Do you really believe that someone's life should be ruined if they make a single offensive comment for which they then sincerely apologize?" Musk replied on his Twitter page Friday.
Vaughn's lawsuit laid a number of disturbing accusations at Tesla's feet, including that the company "rehires known harassers" and that Black colleagues have "routinely" been called racial slurs. A colleague, Tim Cotton, was allegedly "hit in the back of the head with the chair" after he spoke up about feeling uncomfortable "when associates say n—-a on the line."
Tesla also reportedly took no action after an employee showed the human resources team "hateful, violent and racist videos created on his phone by an employee and a supervisor at the Tesla Factory."
In a wide-reaching blog post titled "Hotbed of Misinformation" Tesla criticized a number of the points raised in the lawsuit. The company says that Vaughn's employment contract was not "terminated" on October 31 as he claimed, but that his six month temporary contract via an agency "simply ended" as expected. The company also claims the lawsuit's reference to having 100 plaintiffs is a "complete fabrication."
The company also says it investigated the behaviour of people working around Vaughn several months ago, and three employees were terminated. It said that "it is not humanly possible to stop all bad conduct," as Tesla has thousands of employees, but that further action will be taken "as necessary" to get bad behaviour "as close to zero."
Tesla also criticized the lawyer that filed Vaughn's lawsuit:
The trial lawyer who filed this lawsuit has a long track record of extorting money for meritless claims and using the threat of media attacks and expensive trial costs to get companies to settle. At Tesla, we would rather pay ten times the settlement demand in legal fees and fight to the ends of the Earth than give in to extortion and allow this abuse of the legal system.
The company also tried to "clear up" accusations in the lawsuit that Musk told black employees to be "thick-skinned" and accept apologies.
As one of many points in that email, Elon also explained that if someone makes an offensive or hurtful statement on a single occasion, but subsequently offers a sincere apology, then we believe that apology should be accepted. The counterpoint would be that a single careless comment should ruin a person's life and career, even if they truly regret their action and do their best to make amends. That would be a cold world with no forgiveness and no heart.
Tesla shared a screenshot of Musk's full email, where the relevant quote can be found in the fifth paragraph:
The statement came under fire after publication. Musk was criticized after Tesla appeared to double down on its belief that victims should accept apologies:
The lawsuit is the third time that Tesla has been sued for racial harassment in its factories. An October lawsuit from three black employees claimed they were subjected to repeated racial slurs and drawings from co-workers. Another case, brought by DeWitt Lambert, also claims he was subject to continuous racial slurs.
InsureMyTesla could change the auto insurance industry forever. Check out this video to find out how.