This New Video of Boston Dynamics' Robot Dog Shows Better Trained SpotMini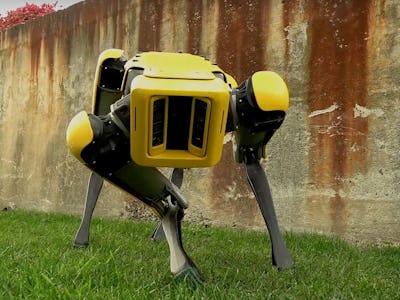 Boston Dynamics/YouTube
The robot dog of the future is getting smarter. SpotMini, created by Boston Dynamics, has improved dramatically since its June debut. It's designed to complete household chores while using its four legs to maintain balance, and a new video released Monday shows the incredible progress the company has made.
In the 24-second video, SpotMini runs up to the camera, peers down to look at the viewer, then lifts itself up and hops along on its way. Unlike its predecessors, which looked like a mesh of wires and metal bars, the new version has a fetching yellow exterior that makes it look more like a cute toy than some sort of military bot. If this dog-like machine is going to live alongside the rest of a family, you want it to look as friendly as possible.
The bot also appears to have a smoother motion. In previous demonstrations, the 55-pound SpotMini has been seen using a retractable arm located in its back to help out around the house, carefully moving objects to avoid dropping them. It can pick up cans, load up a dishwasher, and even do a little dance. During the 16 months since its debut, SpotMini has come on leaps and bounds to develop into a bot that wouldn't look amiss alongside the Roomba autonomous vacuum cleaner or the Amazon Echo A.I. voice assistant.
At this stage, it's unclear where SpotMini's future lies. Japanese telecommunications firm SoftBank announced its purchase of Boston Dynamics back in June, taking over from Google parent company Alphabet. SoftBank is known in robotics for its Pepper customer assistant, a humanoid bot with a touchscreen on its front for taking orders in hi-tech stores.
"Smart robotics are going to be a key driver of the next stage of the information revolution, and Marc (Raibert) and his team at Boston Dynamics are the clear technology leaders in advanced dynamic robots," SoftBank Group Chairman Masayoshi Son said at the time of the purchase.
Hopefully SpotMini leaps its way into homes soon.