Why is Facebook So Desperate to Make This Feature the Next Big Thing?
Why can't Facebook just let Instagram have Stories?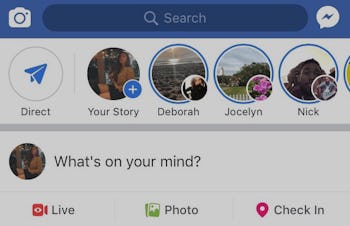 Katie van Brunt
If you've opened the Facebook app lately, you've likely seen a row of faded "Stories" avatars.
The Snapchat look-alike feature, which originally launched on the Facebook-owned Instagram in 2016, hasn't exactly taken off on Facebook's feeds. That hasn't stopped the company from expanding its use to its Groups and Events pages, as the company confirmed Monday.
Facebook's product manager Connor Hayes said the new feature addition is meant to "give multiple people the opportunity to tell a Story from multiple different angles."
Similar to Snapchat Groups, the feature will allow users to collaborate on Stories. However, Facebook users will be able to use Stories within private Event and Group pages, giving them the option to create "private" stories for say, a birthday or engagement party event.
By expanding the Stories feature, it seems Facebook is hoping Friends will be encouraged to stitch together ephemeral footage and images throughout the platform.
The question is: Why won't Facebook let Stories just live on Instagram, where the feature does amazingly well? Most likely because it needs to recreate their success across all its platforms.
It's not just interspersing Stories onto as many pages as possible, though. To show just how serious they are about Stories' success on Facebook, the company recently announced an overhaul of the entire feature, not long after its initial lukewarm launch.
Facebook is replacing Messenger Day with Facebook Stories, further integrating Stories and their replies within the Messenger app.
"We needed to make it easier for people to share Stories across different apps," Facebook's product manager Connor Hayes said. "Some people actually thought these experiences were already connected. We feel like it would make sense."
And in case you don't feel like creating an original Facebook Story, now you can even cross post your Instagram one right to Facebook for your grandparents to view.
It's looking like soon enough, much like Instagram Stories, you won't be able to escape Stories if you're a Facebook user.