Ban Killer Robots Before It's Too Late, Experts Warn the UN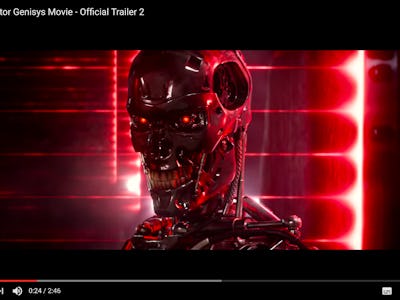 Terminator Genisys/YouTube
The Campaign to Stop Killer Robots has taken its cause to the United Nations. Experts gathered in Geneva on Monday to put pressure on the Convention on Conventional Weapons for a global ban on artificial intelligence-powered machines capable of killing humans.
"There is an emerging arms race among the hi-tech nations to develop autonomous submarines, fighter jets, battleships and tanks that can find their own targets and apply violent force without the involvement of meaningful human decisions," roboticist Noel Sharkey, a spokesperson for the campaign and the emeritus professor of A.I. at Sheffield University, told The Guardian. "It will only take one major war to unleash these new weapons with tragic humanitarian consequences and destabilization of global security."
Sharkey is not alone in his crusade. Tesla CEO Elon Musk, Mustafa Suleyman of Google's DeepMind, and 114 other leading figures in robotics signed an open letter in August to urge to take action against the "third revolution" in warfare.
The major concern is that such machines would take humans out of the warfare equation. A reduction in the cost of A.I.-powered systems, coupled with a drive toward automation, could push people into oversight roles, eventually leading to full automation.
To make their case, campaigners screened a short film that outlines the dangers of these machines.
From November 13 to 17, representatives from 70 states will attend the convention's first meeting of governmental experts discussing lethal autonomous weapons systems. It's a big moment for the campaign: If the week is a success, it could halt the nightmare scenarios envisioned by Musk, Sharkey, and others.
The campaign points to a number of factors that would make a convention ban effective. A total of 125 states are high contracting parties to the convention, including all five permanent members of the United Nations Security Council. In 1995, the group banned blinding lasers, an action seen as a model for a future killer robot ban.
The campaign does not expect the week to end with a total success, but instead hopes for momentum to inspire countries to join their cause. Nineteen countries have already pledged their support for a ban: Algeria, Argentina, Bolivia, Chile, Costa Rica, Cuba, Ecuador, Egypt, Ghana, Guatemala, Holy See, Mexico, Nicaragua, Pakistan, Panama, Peru, the State of Palestine, Venezuela, and Zimbabwe. The European Parliament also voted heavily in favor of a resolution calling for a ban. It could prove to be the first steps toward a global pre-emptive ban.