New 'Doctor Who' TARDIS Has Reverted Back to an Earlier Version
It has a seriously retro look.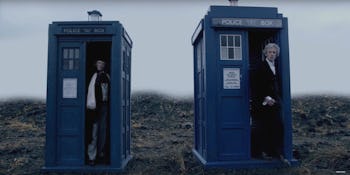 BBC
When newcomer Jodie Whittaker enters the TARDIS as the 13th Doctor on Doctor Who, her blue time travel box will get an all-new makeover. Or perhaps more accurately, its exterior will revert to a previous version of the vessel.
A new photo of the 13th Doctor's costume released Thursday also includes a look at the TARDIS that she'll use in Series 11. It's definitely the ship made to look like a blue police box, but a few subtle changes give it a more retro look.
Throughout the more than 50 years that Doctor Who has been around, one of the only consistent things has been the TARDIS, a supposedly shape-shifting spaceship that somehow got stuck as a 1920s London police call box. The interior has changed drastically over the years with the same basic structure, and other than the occasional subtle teaks, the exterior has largely remained the same. Few things actually do change on the box, and it looks like Series 11 will change most of them.
The Color
Over the years, "TARDIS blue" has meant many different shades of a similar blue, but the 12th Doctor's vessel was supposedly confirmed by BBC as Pantone 2955C. For most of Capaldi's run, the TARDIS looked brand new, as if a fresh coat of even paint had been applied.
But the 13th Doctor's TARDIS has a distinctly weathered look.
## The St. John Logo Is Gone
Most recent versions of the TARDIS have a St. John Ambulance logo on the right-side door, something that real police boxes had and so did the original 1st Doctor. It was removed for 40 odd years and then returned in 2010 during the 11th Doctor's reign. But now, the logo has once again been removed.
The Instruction Sign Colors Are Inverted
Just like everything else on the TARDIS, the iconic instruction sign on the left-side door has seen various iterations. Other than subtle shifts in size and color, it's the next most characteristic feature. In Whittaker's, the sign's colors have been inverted to what looks like white lettering on a black background, which hasn't been the status quo for the TARDIS in quite some time.
Darker backgrounds with white letting was used on the TARDIS intermittently from 1966 all the way up until the 1996 movie, when it was last seen. The 13th Doctor's will mark the first time the TARDIS appears this way in more than 20 years.
The version most resembling Whittaker's TARDIS seems to be the third TARDIS design used from 1976 to 1980 for the 2nd, 3rd, and 4th Doctors. Even then, coloring varied slightly, but the resemblance is still there.
Jodie Whittaker takes off in her new TARDIS with her first appearance during this year's Doctor Who Christmas special on December 25, 2017.